Engraving
Service Detail from Metal Marker Manufacturing, Inc.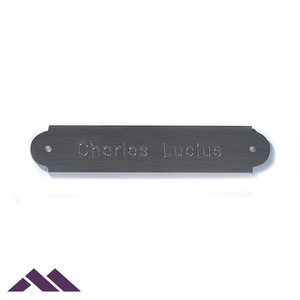 Metal Marker has the capability to engrave on many substrates which gives our customers the benefit of custom engraving their tags, signage or nameplates to their needs. This also includes your organizations' logos. Metal Marker has a wide ranging customer base from churches, institutions, and country clubs to machine builders and HVAC/electric contractors. Whether the substrate is aluminum, brass, stainless or plastic, and with a variety of color options, Metal Marker can make an impressive tag, signage or nameplate to suit our customers' needs.
Our customer service representatives can work with you to develop a solution to best meet your needs. Please contact one of our customer service representatives to obtain additional information or a quote for engraving.