Furniture Tags and Nameplates
Service Detail from Metal Marker Manufacturing, Inc.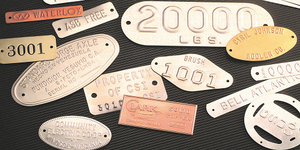 We produce custom metal identification that can be used to mark furniture.
Metal tags aren't just for marking industrial machinery and tracking equipment.
One of the best uses for custom metal identification is for furniture. Manufacturers of all types of furniture utilize nameplates for branding, tracking, and to meet customer needs.
MetalPhoto and engraved furniture tags are both excellent for this application due to their high durability and customization options.