Sling Tags
Service Detail from Metal Marker Manufacturing, Inc.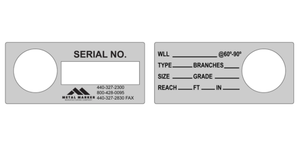 Construction sites across the nation utilize wire and rope slings to make their jobs possible. OSHA guidelines mandate that every sling be marked with a metal identification tag.
At Metal Marker, we produce sling tags that are durable enough to withstand tough industrial conditions.