Steam Trap Valve Tags
Service Detail from Metal Marker Manufacturing, Inc.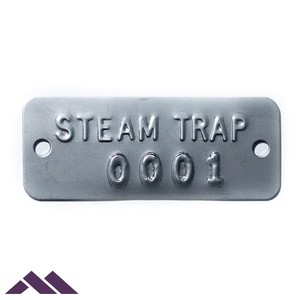 Steam trap tags provide clear identification. They are a key element in maintaining standards within a facility. Identification nameplates are fundamental in following correct inspection procedures. It is mandatory for every steam trap to be labeled properly.
Not only does this play a large role in facility safety, but also helps confirm the valves are operating to their fullest capability.
Steam trap inspections are important as they make sure your valves and purge stations are functioning correctly. If they aren't, there is the potential for loss of steam, leaks, damage, unnecessary wear, and malfunction.
In addition, they are absolutely vital in maintaining safety standards. Working near high pressured steam can be very dangerous. A failed steam trap could also result in severe injury. Protect yourself and your employees by making sure regular inspections occur.