Valve Tags
Featured Product from Metal Marker Manufacturing, Inc.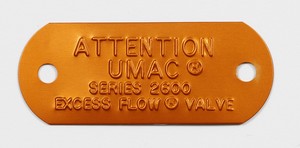 Metal Marker offers valve tags manufactured to your specifications and delivered on time to properly identify valves, pipes and other items. Metal Makers offers a wide range of materials, the capacity to efficiently product both small and large quantities, the ability to include barcode or UID marking on your valve tags. We cal also include your logo or other unique artwork. We currently provide custom valve tags to a wide variety of industries including aerospace, government, manufacturing and utilities. Valve tags (ID tags) include serialized identification tags and stamped identification tags.
Metal Marker's ISO9001 + AS9100 Certified Quality Management System, award
winning quality and delivery and knowledgeable Customer Service Representatives
makes Metal Marker you source for stamped metal tags. Please contact one of our
Customer Service Representatives to obtain additional information or a quote for
valve tags.