DL50 Rondolino
Product Announcement from Mettler-Toledo, Inc.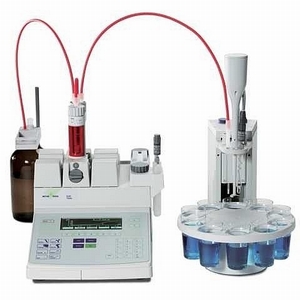 Features and Benefits Automated titration stand Rondolino
Gives higher reproducibility of your results. The automated dip rinsing extends the lifetime of the electrode. The automated sample change saves time. For extensive rinsing the optional PowerShower is available. Multiline display, softkeys, pictograms and online help
If you want to realize the full potential of automatic titration right from the outset, you need an instrument that is easy to understand and operate. The DL50 Rondolino helps you with a large multi-line display and online context sensitive help. The instrument assists the user in operation with softkeys showing only the choices available and pictograms for the most commonly used auxiliary functions. In addition, the instrument allows attachment of an external PC keyboard for convenient entry of alphanumerics.
LEARN titration and predefined methods
The LEARN TITRATION function enables the instrument to determine the optimum titration parameters for the user. The instrument is supplied with 4 METTLER TOLEDO methods for common applications and has the ability to store an additional 50 user methods.
Specifications- End point titration/ EQP titration/ Redox, voltametric, complexometric, non-aqueous, photometric titration/ KF Titration possible/ pH-stat suitable/ User guidance learn titration, help function GLP conform printout/ 1 burette drive/ Sample changer option Printer connectability serial/parallel TTLIO
---