FBRM® G400 for Inline Particle Measurement
Product Announcement from Mettler-Toledo, Inc.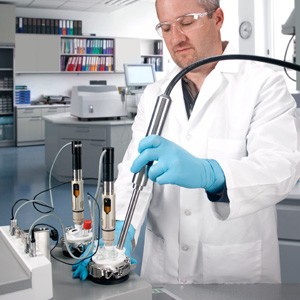 METTLER TOLEDO has announced the release of the next generation Focused Beam Reflectance Measurement (FBRM®) technology providing breakthrough performance for characterizing particles as they naturally exist in process. The next generation FBRM® has been completely redesigned making it significantly easier to get even more information out of each experiment. This latest FBRM® technology, found in the FBRM® G400 and FBRM® G600 models, establishes a new standard for inline measurement of particles, crystals and droplets - improving the accuracy and resolution of the measurement while making the data easier to understand.

"FBRM® G Series enables chemists and engineers to gain a fast and intuitive understanding of the particle system with breakthrough resolution in signal processing, " commented Benjamin Smith, Market Manager, METTLER TOLEDO. "The versatile and robust hardware enables FBRM® G Series users to increase experiment throughput and improve product quality in less time."
FBRM® G400 is designed for laboratory research and development, facilitating better understanding and faster optimization of particle and droplet processes such as crystallization, wet milling, and homogenization of suspensions and emulsions.

The established iC FBRM™ particle characterization software delivers key information to help users develop a strong understanding of their particle system dynamics, optimize experimental design, speed development time, and quickly identify and solve production issues. Intuitive report generation features allow users to combine data from multiple FBRM® experiments with batch condition data (e.g. temperature, mixing, dosing) and produce professional reports with a click of the mouse.

Since acquiring Lasentec® in 2001, METTLER TOLEDO has continued to advance the development of inline particle size, shape and count distribution measurements. With thousands of FBRM® and PVM® installations worldwide from the R&D laboratory to the manufacturing plant, these probe-based technologies are widely acknowledged as the gold standard for tracking and visualizing the rate and degree of change to particles and droplets as they naturally exist in process.
---