G20 Compact Titrator
Product Announcement from Mettler-Toledo, Inc.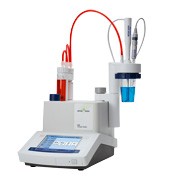 The Compact Titrator G20 combines simplicity and dependability in one instrument. It is especially designed for basic routine applications and can be operated as simple as possible.
One Click™ user Interface with user specific Homescreen, Shortcuts and operating language
Plug & Play burette and sensor recognition
Compact and simple automation with the Rondolino titration stand
Use the Solvent Manager to avoid contact with harmful chemicals
GLP compliant Sensor test promises reliable results
LabX® light titration offers data security and comprehensive documentation
One Click Titration™ – The One Click™ user interface is optimized for direct access to all routine tasks and provides clear information to the user. It offers four Shortcut buttons for immediate start of routine operations. Every user has its Homescreen, Shortcuts and operation language.
Dependable handling and fast installation – Both the titrant and the sensor are automatically detected upon connection to the titrator and all applicable data are saved on the burette or sensor chip. Errors occurring during the installation of resources are now a thing of the past. Plug & Play – safe titration couldn't get any simpler.
Compact and simple automation – The automated Rondolino titration stand is simple to install and uses minimal bench space. Series of up to 9 samples are processed quickly and safely. Dip-rinsing after each analysis ensures minimal carry-over and after the series, the sensor is moved to a fixed conditioning beaker.
Safe handling of chemicals – Contact with toxic chemicals should always be avoided. The Solvent Manager facilitates filling and draining solvents used for titration analysis. Increase safety in the laboratory and save time with sample preparation by using Solvent Manager to handle the chemicals in One Click™.
Sensor test promise reliable results – The sensor test, designed in line with GLP principles, ensures that the sensor complies with applicable specifications prior to each titration. This increases the reliability and accuracy of analyses.
Total security with PC software – LabX® light titration PC software offers full titrator control, safe database archiving, efficient management of results with graphic monitoring and individual search filters. The convenient Windows®-based user interface and the integrated online help system enable the user to operate G20 via LabX® light titration in a reliable and safe manner.
---