Hand-friendly Singlechannel Pipettes
Product Announcement from Mettler-Toledo, Inc.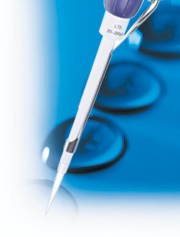 Top Precision. Top Ergonomics. RAININ pipettes enhance lab performance and help reduce time-to-market by guaranteeing highest accuracy and repeatability. Innovative ergonomic designs, including the patented LTS LiteTouch-System, minimize fatigue and injuries, hence reducing operator errors and inaccuracies.
High quality materials and state-of-the-art manufacturing processes ensure that RAININ provides durable and reliable pipettes that greatly diminish mechanical drift. The wide selection of pipetting options further enables scientists to always use the optimal application-specific instrument.
RAININ singlechannel pipettes offer the greatest flexibility. The vast choice of manual and electronic pipettes, including the revolutionary E-Man, allows you to always have the right tool for a given application. Loaded with both ergonomic and performance enhancing features, such as the innovative LTS LiteTouchSystem, they are the optimal choice for just about every pipetting task.
---