Micro Balances & Ultra-micro Balances
Product Announcement from Mettler-Toledo, Inc.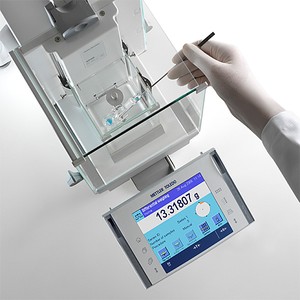 Excellence micro balances and ultra-microbalances from METTLER TOLEDO set standards in terms of weighing performance, user friendliness and regulatory compliance.
Offering a capacity of up to 6 g with 0.0001 mg readability or up to 52 g with 0.001 mg readability, these balances are ideal for weighing smallest sample amounts to significantly safe cost – particularly when using valuable materials.
Keeping sample weights as small as possible means tremendous cost savings when handling precious,
degradable or toxic substances. METTLER TOLEDO XP6U / XP2U and XP6 offer unsurpassed accuracy up to a tenth of a microgram. Even sample sizes below 1 mg still meet strict process tolerances as well as comply with international regulatory standards.
The XP6U / XP2U and XP6 Micro Balances offer:
Optimum measurement performance in seconds
Comprehensive QM-functions that help to fulfill regulatory requirements
Intuitive and easy operation
Mettler Toledo XP6U / XP2U Micro Balance and XP6 Ultra Micro Balance are designed to boost
efficiency and reliability as well as support network compatibility. For more information, request a quote, or buy online, please visit Mettler Toledo's website.
---