SevenEasy pH and Cond. Meters
Product Announcement from Mettler-Toledo, Inc.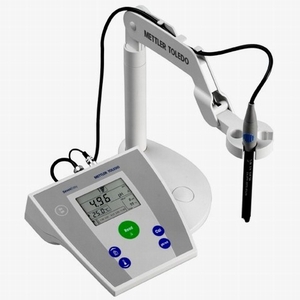 Features and Benefits
Automatic temperature compensation- With the automatic temperature compensation (ATC) feature, the effect of the temperature on the electrode reading is corrected.
Automatic endpoint- Using the automatic endpoint feature will markedly improve the reproducibility of your readings. This ensures the ever increasing quality demanded of measurements.
Automatic buffer recognition- The automatic buffer recognition system allow you to choose the order in which to use buffers when calibrating. This way you quickly get through your routine calibrations without unnecessary error messages.
Prominent display- The clear, contrasting display with its large characters allows the easy reading of results as well as other relevant additional information displayed.
Product Description- The intuitive new interface with its visual icons makes operation child's play. Applications range from single battery-operated measurements through to the analysis of large sample series including data transfer. Simply innovative design that fully meets the requirements of modern quality control, data management and official regulations.
• User friendly instrument for demanding users • High reproducibility through improved sensor technology • Improved Quality of measurements through automatic functions • Comprehensive service package including IQ/OQ/PQ • Integrated interface for data exchange
Order information: S20 ..... SevenEasy pH (including electrode holder) S20-K ... kit version (as S20, including InLab413 and buffer sachets) S30 ..... SevenEasy conductivity (including electrode holder) S30-K ... kit version (as S30, including InLab730 and calibration sachets)
Specifications S20/S20-K pH-range 0.00 to 14.00 pH-resolution 0.01 pH-relative accuracy ± 0.01 mV-range -1999 to 1999 mV-resolution 1 mV-relative accuracy ± 1 Temperature range °C -5.0 to 105.0 Temperature resolution °C 0.1 Temperature accuracy °C ± 0.5 Display Custom LCD Power supply Ext. power supply (standard) or 4x AA (LR6) batteries (optional) Specifications S30/S30-K Conductivity range 0.01 uS/cm to 500 mS/cm, autoscaling Cond. accuracy +/- 0.5% Temperature range °C -5.0 to 105.0 Temperature resolution °C 0.1 Temperature accuracy °C ± 0.5 Display Custom LCD Power supply Ext. power supply (standard) or 4x AA (LR6) batteries (optional)
---