TGA/DSC 1 - Thermogravimetric Analyzer
Product Announcement from Mettler-Toledo, Inc.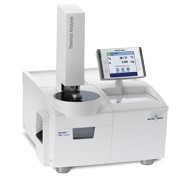 The heart of a TGA is the balance cell. Our TGA instruments use the world's best micro and ultra-micro balances. By using one of the three removable sensor types the TGA/DSC 1 simultaneously measures heat flow in addition to weight change. Thanks to its modular design, the TGA/DSC 1 is the ideal instrument for manual or automated operation in production and quality assurance through to research and development.
Features and Benefits:
High resolution – ultra-microgram resolution over the whole measurement range
Efficient automation – most reliable sample robot for high sample throughput
Wide measurement range – measure small and large sample masses and volumes
Broad temperature scale – analyze samples from ambient to 1600 °C
METTLER TOLEDO ultra-micro balance – rely on the balance technology leader
DSC heat flow measurement – for simultaneous detection of thermal events
Gastight cell – ensures a properly defined measurement environment
Hyphenated techniques – evolved gas analysis using MS and FTIR
Modular concept – tailor-made solutions for current and future needs
Specifications - TGA/DSC 1 - Thermogravimetric Analyzer
Temperature range: RT ... 1100 °C or 1600 °C
User Interface: 320x240 pixel Touchscreen control and Touch-free SmartSens
Heating: room temp. ... 1000° C: 2 min
Cooling: 1100 ... 60 °C: 8.8 min
---