TMA/SDTA841e - Thermomechanical Analyzer
Product Announcement from Mettler-Toledo, Inc.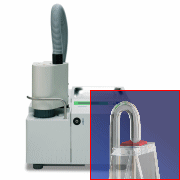 The new TMA incorporates true, high quality Swiss precision mechanics. Offering nanometer resolution, it can measure the very slightest dimensional changes in samples. Description The most important advantages of this versatile TMA instrument are
Automatic liquid nitrogen cooling - simplifies operation and improves measurement reproducibility
Patented SDTA capability - guarantees high temperature accuracy and allows you to simultaneously measure thermal effects
Dynamic load TMA (DLTMA mode) - measures weak transitions and elasticity
Thermomechanical analysis measures the dimensional changes of a sample as a function of temperature and is a very interesting and complementary method to DSC that provides you with a large amount of additional information.
Features and Benefits:
The characteristic values and properties most frequently studied are:
expansion coefficients

glass transition temperatures

softening temperatures

solid-solid transitions

melting behavior

swelling behavior and

elastic behavior

The TMA/SDTA841e supports the following measurement modes:
Expansion

Penetration

Tension

Bending

Swelling
Specifications - TMA/SDTA841e - Thermomechanical Analyzer
Temperature range: -150 ... 600 °C
Temperature accuracy: ± 0.35 K
TMA resolution: 0.6 nm (over the whole range)
Maximum sample length: 20 mm
---