Anti-Bubble Dissolved Oxygen Sensor
Featured Product from Mettler-Toledo GmbH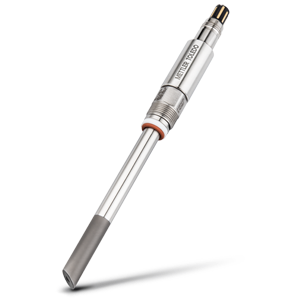 The InPro 6860i/12/120/mA/HD is an optical dissolved oxygen sensor with a mechanically modified hydrophilic surface. Combined with its tilted design, it prevents bubble accumulation, creating a highly stable measurement signal.
Increased Yield and Product Quality
The angled tip and hydrophilic surface prevent bubble formation. This eliminates noise for improved production efficiency and process control.
For Digital & Analog Bioreactors
This anti-bubble DO sensor has digital (MODBUS, RS-485) and analog (mA) output signals for compatibility with benchtop bioreactors and transmitters.
Sterilizable and Autoclavable
The InPro6860i/12/120/mA/HD provides fast, precise oxygen measurement, even after repeated autoclaving and sterilization cycles up to 140° C.
Providing Measurement Solutions
Across Our Customers' Value ChainWe offer precision instruments and services for many applications in research and development, quality control, production, logistics and retail to customers around the world.