InVision™ Smart Scale
Featured Product from Mettler-Toledo GmbH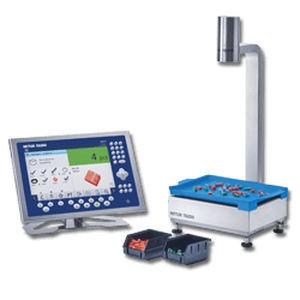 Learn more about for Improved Weighing Automation solutions
Highest Quality Kits
Zero missing parts is a reality with InVision™ as your second set of eyes on every package. When you reduce the risk of human error in manual picking processes, you can achieve 100% quality kits and maximize customer satisfaction.
Up to 30% Better Productivity
InVision™ combines guided working steps and intuitive process verification with smart workstation design, leading to increased operator efficiency. See productivity improvements of up to 30% and get more out of your processes.
User-Friendly HMI Boosts Processes
Eliminate sources of operator error with guided working steps. The intuitive touchscreen combines image cues with written text for easy viewing of each step. The colorWeight® mode supports operators with clear result indication and can subsequently speed-up processing times. The dynamic display uses different colors to indicate at a glance if counted material is below, within or above the target - requiring less concentration, and providing better overall performance.