M300 Conductivity, pH, ORP, DO, Ozone, Flow...
Product Announcement from Mettler-Toledo Process Analytics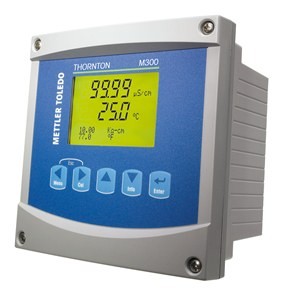 M300 Transmitter - Conductivity/Resistivity, Dissolved Oxygen, Ozone, Flow, pH, ORP and Temperature
The M300 multiparameter transmitter measures from two channels of conductivity, resistivity, pH, ORP, dissolved oxygen and/or dissolved ozone. With four display lines and four analog outputs, the multiparameter M300 can provide full capability on both analytical measurements and temperatures. Versatility includes the choice of 1/4 DIN panel-mount or 1/2 DIN wall- and pipe-mount enclosures.
With its innovative USB port, the M300 is open to the future – for remote configuration, data logging or software upgrade.
Features and Benefits:
Two Field-configurable channels for any pair of parameters:
Conductivity, resistivity, pH, ORP, dissolved oxygen and/or dissolved ozone
Reduces number of instruments and amount of panel space
Includes all features of single parameter instruments
Specifications - THORNTON M300 Multiparameter
Measured units: pH, mV, S/cm, S/m, ohm-cm, %HCI, H2SO4 & NaOH, ppb & ppm O2, ppb & ppm Ozone
Power supply: 100...240 V AC, or 20...30 V DC, 10VA
Protection: 1/4 DIN: IP65 / NEMA 4X(front); 1/2 DIN: IP65/NEMA 4X
Current output: 0/4 to 20 mA, 22 mA alarm; 4 X ( dual-channel)
Relays: 2-SPDT and 2-SPST mechanical rated at 250 VAC or 30 VDC, 3 Amps; 2-Reed rated at 250 VAC or DC, 0.5 Amp switching, 10 watts
Temperature inputs: Pt1000 (Pt100 with adapter)
Communication: USB port
Mounting options: 1/4 DIN: panel mounting; 1/2 DIN: wall & pipe mounting
Short description: The M300 Multiparameter Transmitter measures two channels of Conductivity, Resistivity, pH, ORP, Dissolved Oxygen, and Ozone, in any combination.
---