MICRO AIR FORCE™ Dust Collectors
Featured Product from Micro Air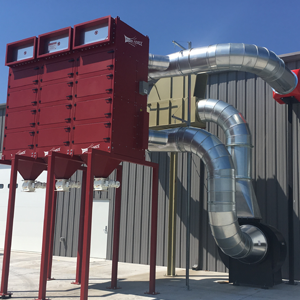 MICRO AIR® FORCE™ Dust Collectors, the next generation of clean air systems, are designed for maximum filtration, operating at higher efficiency levels and lower costs.
Engineered for maximum cleaning efficiencies, FORCE™ dust collectors remove dust, fumes and smoke from sanding, grinding, buffing or welding of metals, composites, fiberglass, plastics or wood, maintaining safe, breathable air that will comply with OSHA PEL limits for various particulates or contaminants.
FORCE™ collectors design features include:
True Ledgeless Construction - compliant with NFPA and OSHA standards for comubstible dusts.
Hinged Door Filter Access - easy access for cartridge inspection, removal and replacement
Compact Modular Design - reduced footprint saves valuable floor space and provides versatility for stand-alone and/or mutli-unit installations.
Rigid Long Lasting Fabrication - manufactured for a variety of applications, the Micro Air FORCE collector is constructed from 12 gauge galvaneal steel for maximum durability and performance.
Increased Capacity - Force units are rated at +/- 30" of internal static pressure, improving overall function of the unit.
New Robust Valve System - Long life valve components have a 20 year life expectancy, rated to (-40° F) will not require additional heating elements for excessively cold climate applications.
Indoor and/or Outdoor Installations - Tested and rated for interior and exterior use without any additional upgrades or modifications required.
Full Electrical Control Package - includes motor starter, overload switches, start/stop and optional fused disconnect, a true one-stop shop for all sourcing of component needs.
Roto-Pulse® Cleaning System - provides superior cartridge cleaning, extends filter life thus reducing replacement & maintenance costs while providing reduced noise exposure - Roto-Pulse® cleaning system is quieter, typically 15 dBA quieter than reverse pulse cleaning systems.
Improved Air Delivery System - Integrated surge tank provides greater efficiency, improved valve system is rated for 5 million cycles with no maintenance required.

Stronger Support System - New support system is stronger, easier to install, tested for a variety of environmental rigors, and requires no cross-bracing for seismic zones 1, 2, and 3.
Intelli-Touch® Energy Savings Controls - Reduces energy consumption by using only the brake horsepower needed to maintain the set CFM or static pressure. Soft start or slow ramp-up eliminates surges or spikes in power consumption, providing energy cost savings.
Full Line-Up of Ancillary Products Available - Explosion Vents, Backblast Dampers, Chemical Isolation, Spark Arrestors, Rotary Airlocks, Screw Conveyors etc. for safety and compliance issues. Any system can be configured to meet all OSHA/NFPA requirements for combustible dusts.
MICRO AIR® Custom Fabrication Capabilities -Provides flexibility to meet special design needs such as the custom stand (legs) shown in the FRP8-3 photo. Legs were fabricated to accommodate a roll-in 7' x 7' cart underneath the collector.