Compact True Color Sensor for Color Recognition
Featured Product from Micro-Epsilon Group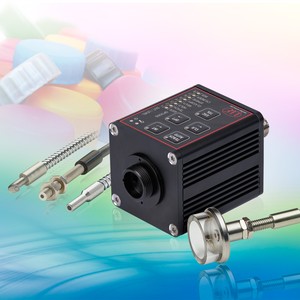 Determination, measurement and detection of colors in industrial applications are complex measurement tasks. State-of-the-art color measurement technology makes the colorSENSOR CFO100 the ideal solution across multiple industries. The controller is distinguished by high color accuracy, state-of-the-art interfaces and intuitive operation. The integrated web interface makes setup and configuration incredibly simple.
With its colorSENSOR CFO100, Micro-Epsilon introduces a new generation of color sensors. High color accuracy and gray-scale detection are combined with modern interfaces such as Ethernet and user-friendly operation via buttons and indicator LEDs.
Up to 256 colors in 6 color groups can be taught in. Illumination, averaging and signal amplification are automatically adapted to the current measurement situation. As well as the storage of colors and tolerance adaption, configuration via buttons are also possible. Teach-in and adapting tolerances can be carried out for individual colors and color groups.
A reproducibility of ?E ≤ 0.5 enables reliable detection of even the finest of color graduations. Recording color values and control of the production systems is possible due to the Ethernet interface, which enables integration into modern industrial environments.
Illumination and measurement are provided via an optical-fiber cable that is connected to the color sensor. The use of optical-fiber cables has several major advantages.
colorSENSOR CFO100 is ideal for restricted areas as the sensor head requires a minimum of space. Furthermore, a large number of sensor heads fulfill the requirements of various measurement tasks and customer-specific adaptions. Another advantage resides in maximum installation flexibility as the sensor can be installed outside critical areas where vacuum, high temperatures and explosive areas have no influence on the measurement.
Easy configuration is possible via web interface. Settings such as illumination and measurement frequency for perfect color recognition and measurements can be set up easily. The output signals are also set up directly using the web interface.
The colorSENSOR CFO100 is used in the food industry for color sorting tasks, in the automotive industry for component inspection, in the printing industry for color mark recognition, and in packaging control.