Custom Inductive Displacement and Position Sensors
Featured Product from Micro-Epsilon Group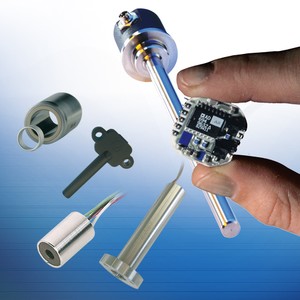 Sensors can be adapted in many different ways to suit customer-specific applications. Particularly in the case of high volume orders up to 100,000 pieces, Micro-Epsilon can produce customized sensors efficiently, which results in considerable cost reductions. Micro-Epsilon offers custom manufacturing for a wide range of sensor types:
Customized Inductive Displacement and Position Sensors:
Inductive displacement sensors from Micro-Epsilon are used extensively in applications for automated processes, quality assurance, test rigs, hydraulics, pneumatic cylinders, and automotive engineering. The advantages of these displacement sensors are well known and highly valued, and include ruggedness, reliability under harsh conditions, high signal quality and good temperature stability. The electromagnetic sensors of the induSENSOR series are based on the well-proven inductive and eddy current principle. They are used successfully both in single and high volume OEM applications.
Micro-Epsilon also develops sensors for special requirements that are not met by the standard models. The inductive sensors from the standard range can be suitably modified. A commercial implementation can already be achieved with medium-sized quantities, depending on the type and number of changes. The standard induSENSOR models form the basis for the modifications.
Possible customized solutions:
Customer-specific sensor design
Adapted measuring range
Integrated or detached electronics
Target as sleeve or plunger
Robust sensors for harsh ambient conditions
ATEX-versions
Sensor for high temperature of up to 125°C
Specific requirements to high vibration resistance