Outstanding 2D/3D Laser Profile Scanners
Featured Product from Micro-Epsilon Group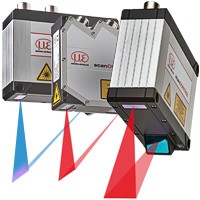 Laser profile scanners from Micro-Epsilon are among the most powerful profile sensors with regard to accuracy and measurement rate. Equipped with powerful processors and highly sensitive optical components, these scanners ensure precise measurements on nearly any type of surface. The compact laser scanners with integrated controller impress in 2D/3D measuring tasks with high precision, high dynamics and are ideally suited for highly accurate 2D/3D profile measurements in automation, production monitoring and quality control.Ideal for measurement tasks in industry & automation
scanCONTROL laser scanners solve diverse measurement tasks: profile, width, height, depth, edge, bead, gap, angle, roundness etc. The configuration software offers more than 40 measurement programs with a total of more than 90 evaluations. The programs are transferred to the scanner which performs measurement, evaluation and output in standalone operation. Alternatively, the scanners can be used as raw data provider.
Advanced Technology
Compact size and integrated evaluation without external controller or IPC
Multiple measuring ranges and laser types (red, blue, classes 2/3)
High profile resolution for the detection of finest details
High profile rate for dynamic measurement tasks
Factory calibration for metals
Proven operational safety in 24/7 operation over many years
Red laser and patented blue laser scanners
Laser scanners from Micro-Epsilon are available with a red laser diode or with the patented Blue Laser Technology. Impressing with high signal stability, Blue Laser scanners are preferably used for profile measurements on red-hot glowing metals, as well as transparent surfaces.
Patent: Measurement tasks involving blue laser scanners on red-hot glowing objects exceeding 700 °C and transparent objects such as glass and plastics are protected by patent law and may thus exclusively be performed with Blue Laser scanners from Micro-Epsilon.