Sensor system for precise thickness measurements
Featured Product from Micro-Epsilon Group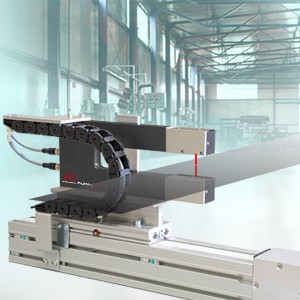 thicknessGAUGE sensor systems are used for precise thickness measurement of strip materials, sheets and plates up to 25 mm. Several models with different sensor types, measuring ranges and measuring widths enable inline thickness measurements of different materials and surfaces based on an unsurpassed price/performance ratio.
The completely assembled system consists of a stable frame to which two optical distance sensors are attached, which detect the thickness of the measured object according to the difference principle. The sensors are perfectly aligned to each other during the assembly. In addition, thickness calibration at the factory enables highly precise thickness measurements.
A linear axis moves the sensor system from the parking position to the measuring position. A measuring standard for fully automatic calibration is located in the parking position.
The thicknessGAUGE system is available with laser triangulation sensors, laser profile scanners or confocal chromatic sensors, which demonstrate their advantages depending on the type of material and accuracy requirements. It measures strips and plates on a non-contact basis and with the highest precision. The system offers maximum application versatility as it provides the suitable measuring principle depending on the requirements, and measures thicknesses from 2 mm to 25 mm.
The unique 3-in-1 combination consists of a linear unit with electromechanical drive that enables measurements in fixed track mode or traversing mode. Furthermore, the thickness measuring system is equipped with an automatic calibration unit that compensates for thermal influences. A multi-touch panel PC, which is equipped with the full range of features of the thicknessCONTROL software package, is integrated too.
It includes powerful signal processing for precise and stable measurement values, an article database and an SPC package. Furthermore, it offers fully automatic documentation of the measuring equipment capability, as well as a flexible interface for connection to the production line, which communicates via Ethernet, EtherNet/IP, PROFINET or EtherCAT.