Low Range Differential Pressure Transmitter MDM490
Featured Product from Micro Sensor Co., Ltd.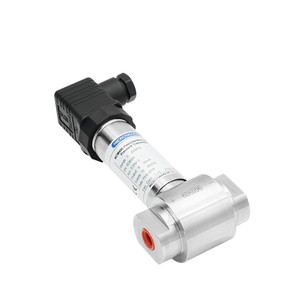 Features
·Full stainless steel construction, compact size, easy installation;
·Laser welding, full-sealed construction; protection IP65;
·Using piezoresistive differential pressure sensor, 316L isolated diaphragm;
·Temperature compensation and aging, stable performance;
·Zero and span adjustable outside;
·Ex-proof version MDM490 conforms to GB3836.4 standard; ex-proof certificate is approved;
·Ship-use product conforms to CCS Rules of Classification of Sea-going Steel Ships(2006); ship-use certificate is approved;
·CE and ROHS certificates
Introduction
MDM490 uses piezoresistive differential pressure sensor as sensing element. Silicon oil is filled in between die and two diaphragms, when measured differential pressure is added on two diaphragm, the pressure could be transferred onto die through silicon oil. Sensor die connects with amplifier circuit through wires, using semi-conductor's piezoresistive effect, transforming differential pressure signal into electric signal. The whole product is used for differential pressure measurement of petroleum, chemi-industry, power station and hydrology, etc.
Electric Characteristic
Pressure Range: :0-3.5MPa
Power supply: 2-wire 15~28VDC 3-wire 15~28VDC
Output signal: 2-wire 4~20mADC 3-wire 0/1~5VDC,0~10/20mADC
Electric connection: plug connection or Φ7.2mm 7-pin cable
Response time(10%~90%): ≤1ms
Insulation resistor: 100MΩ,50VDC
Construction Material
Housing: stainless steel 1Cr18Ni9Ti
Diaphragm: stainless steel 316L
O-ring: Viton
Filled liquid: silicon oil
Pressure port: G1/4 female
Environment Condition
Shock effect: ≤1% at 3gRMS, 30~2000Hz
Impact: ≤1% at 100g, 10ms
Media: liquid or gas which is compatible with construction material
Contact us for more information or email us sales@microsensor.cn