Specialized Oxygen Pressure Transmitter MDM4901FL
Featured Product from Micro Sensor Co., Ltd.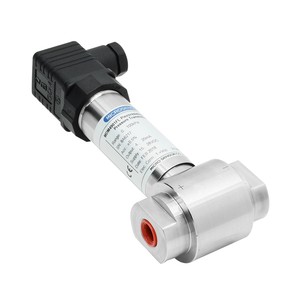 Different from other pressure transmitters which are filled with silicone oil, the MDM4901FL oxygen pressure transmitter is Fluorolube® oil-filled and it is designed according to the requirements of oxygen pressure measurement to keep the product clean at the same time.
The main component of Fluorolube® oil is inactive and flameless CTFE which features high-temperature stability, good lubrication, high dielectric strength, high density, low compressibility and nonpolar, etc. By applying the Fluorolube® oil, It helps to prevent oxidation reaction between oxygen and silicon oil and therefore prevents explosion efficiently.
Specification:
1. Pressure Range: 0~0.035...3.5MPa
2. Power supply: 15~28VDC (2-wire/3-wire)
3. Output: 4~20mA DC (2-wire)
0/1~5VDC, 0~10/20mA DC (3-Wire)
4. Zero Thermal error: ±0.75%FS(±1.25%FS, ≤100kPa)
5. FS Thermal error: ±0.75%FS(±1.25%FS, ≤100kPa)
6. Static pressure effect: ±0.05%FS, per100kPa
7. Compensated Temp.: 0~50 °C
8. Operation Temp.: -10~80 °C
Request a quotation for your custom application and one of our engineers will contact you directly. Don't hesitate to contact us for more details via sales@microsensor.cn.