MPLAB Code Configurator
Product Announcement from Microchip Technology, Inc.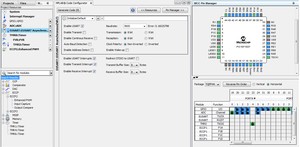 Microchip's Free Code Configuration Plug-In for
MPLAB® X IDE Makes it Easier and Faster to Develop Firmware on 8-bit PIC® MCUs
The MPLAB Code Configurator Enables Firmware Developers to Quickly Initialize the Device and Implement Peripheral Drivers for Faster Time to Market
Full-Text/Traditional Press Release: http://www.microchip.com/pagehandler/en-us/press-release/microchips-free-code-configura.html
High-res Image Available Through Flickr or Editorial Contact (feel free to publish):
Key Facts:
Microchip announced the availability of its MPLAB® Code Configurator. This new code development tool accelerates application development using 8-bit PIC® microcontrollers (MCUs). Additionally, this tool enables developers to enhance the design experience with custom application development.
The MPLAB Code Configurator is a user friendly plug-in tool for the MPLAB® X Integrated Development Environment (IDE) that generates drivers for controlling and driving the peripherals inside PIC microcontrollers, based on the settings and selections made in its user interface.
A key feature of this tool is that it produces the peripheral starter code, which is easy to migrate between similar peripherals and products. The generated driver functions can be used in many different application programs, providing a very powerful and extremely easy-to-use development platform.
The configurator tool simplifies development efforts, accelerating time to market for customers designing with 8-bit PIC microcontrollers. Additionally, the tool offers many new and powerful features that provide customers with flexible code creation options to efficiently solve application development obstacles—all at a minimal cost.
Availability: The MPLAB Code Configurator is available today, via a free download from http://www.microchip.com/get/DWAV.
Related Links:
MPLAB® Code Configurator: http://www.microchip.com/get/DWAV
Executive Quote:
"The MPLAB Code Configurator is a flexible development tool with powerful programming capabilities for developers using our 8-bit PIC MCUs," said Steve Drehobl, vice president of Microchip's MCU8 Division. "This tool provides a development platform that removes design obstacles and minimizes development costs, resulting in highly efficient development and faster time to market."
Keywords/Tags:
MPLAB, Code Configurator, Development Tool, Plug-In
RSS Feed for Microchip Product News: http://www.microchip.com/get/SJ3T
Company Info:
Microchip Technology Inc. (NASDAQ: MCHP) is a leading provider of microcontroller, mixed-signal analog, and Flash-IP solutions, providing low-risk product development, lower total system cost and faster time to market for thousands of diverse customer applications worldwide. Headquartered in Chandler, Arizona, Microchip offers outstanding technical support along with dependable delivery and quality. For more information, visit the Microchip website at http://www.microchip.com/get/WGHD.
Contact Info:
| | |
| --- | --- |
| Microchip Editorial Contact: | Reader Inquiries: |
| Terri Thorson | 1-888-624-7435 |
| 480-792-4386 | |
| | |
---