dsPIC33CH Dual Core Family
Featured Product from Microchip Technology, Inc.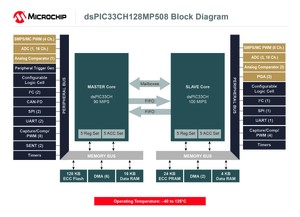 Design Separately, Integrate Seamlessly
System developers designing high-end embedded control applications with multiple software teams can benefit from a new family with two dsPIC®Digital Signal Controller cores in a single chip enabling easier software integration. The dsPIC33CH has one core that is a master while the other is a slave. The slave core is for executing dedicated, time-critical control code while the master core is busy running the user interface, system monitoring, and communications functions, customized for the end application.
The dsPIC33CH is designed to facilitate independent code development for each core by separate design teams and later enables seamless integration when they are brought together in one chip. The dsPIC33CH family is optimized for high-performance digital power, motor control and other applications requiring sophisticated algorithms. This includes applications such as wireless power, server power supplies, drones and automotive sensors.
Dual-Core dsPIC33CH Benefits
Simplified firmware development with dual independent cores
Dual cores and peripheral sets facilitate robust systems and improve functional safety
First dsPIC33 with CAN-FD for robust communication with increased bandwidth
Maximum analog integration including high-speed ADCs, DACs with waveform generation, analog comparators and PGAs for increased functionality in less space
Live update of firmware for high-availability systems, especially important for power supplies