FLUSH-MOUNT mV-TRANSDUCERS and mA-TRANSMITTERS
Featured Product from Micron Instruments & Micron Meters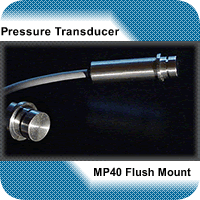 FLUSH-MOUNT mV-TRANSDUCERS and mA-TRANSMITTERS
mV Pressure Transducer
Semiconductor pressure sensors that convert an applied pressure into voltage signals.
Available as either constant current or voltage.
mA 4~20 Pressure Transmitter
Flush mount pressure sensors that convert an applied pressure into an output signal of 4 mA at zero applied pressure and 20 mA at full scale pressure. This is accomplished through a miniature signal conditioning circuit integral to the sensor body.
Dual Sensor Models (Pressure and Temperature)
Units have a high-precision semiconductor temperature sensor attached to the sensing diaphragm to give temperature readings at the site of the pressure measurement. Available in both mV and mA outputs.
Materials - These transducers and transmitters are made of corrosive resistant *titanium (6AL4V). They utilize high reliability bulk type semiconductor strain gages bonded directly to the inside surface of the machined diaphragm.

* Note: MP49 Low cost model uses a sensing head that is machined out of 17-4PH corrosive resistant steel with a Brass Body.
Location & Hours
Micron Instruments
4509 Runway Street
Simi Valley, CA 93063
Phone: 805.522.4676
M-F 7am - 3:30pm (PST)
Contact Us
About Us