T&D Data Loggers and Recorders
Featured Product from Micron Instruments & Micron Meters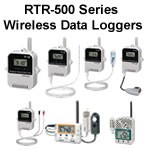 Series Overview RTR-500 Series
Wireless Communication Logging System - a comprehensive suite of Data Collectors and Data Loggers that cover a wide range of applications.
Monitor and Record Temperature, Humidity, Voltages, Current 4~20mA, Pulses, UV and CO2.
Easy end-user setup allows for measurement thresholds to be defined and when a threshold is met the system will Alarm and send out warning messages via email and text.

TR-7wf/nw Series
This next generation of Temperature and Humidity Data Recorders are LAN based which allows access to your data via the Cloud or by direct communication with mobile devices (wf series only). The loggers will auto-upload to your FREE and Secure Web-Storage account which allows you access anywhere, anytime to all your loggers and data.


TR4 Bluetooth Series
The TR4 series are data loggers equipped with Bluetooth low energy. With a smartphone/tablet and our dedicated apps, logger communication and data management have never been easier. We offer dedicated apps for real-time monitoring of changing data and uploading recorded data to our free cloud service "T&D WebStorage Service".

TR-5i Series
The TR-5i Series includes easy-to-use waterproof compact durable loggers for measuring temperature, voltage, 4-20mA, and pulse count and their low energy consumption design means longer battery life.
Collecting data is made easy with an IR enabled handheld collector for on site use or a portable USB connectable port for use with a PC.

TR-7Ui Series
TR-7Ui Series includes USB/IR communication capable loggers for measuring not only temperature and humidity but other important environmental factors such as CO2, UV and Barometric Pressure.

MCR Series
Our MCR Series is made up of two types of 4-channel loggers
MCR-4V for voltage
MCR-4TC for wide range thermocouple sensors.
They can be mixed and combined for up to 16 channels of simultaneous recording.

RTR-601 Series
The RTR-601 makes food safety a snap and with the RTR-500NW/AW Base Station, data can be auto-uploaded for viewing from PC or mobile device.

VR-71
The VR-71 measures and records voltage signals within a range of DC(+/-)15V and can record common signals, such as 1-5V/4-20mA, as well as, output signals from a variety of sensors.

RTR-322 Log-EZ
The RTR-322 log-EZ logger is our most user friendly wireless model perfect for tracking temperature and humidity in a home or office from one PC with the USB dongle connected to it.
Contact Micron Meters by phone at: 770.923.2522
or by email at: info@micronmeters.com