EMI/RFI Shield Patch Panel
Product Announcement from Microwave Photonic Systems, Inc.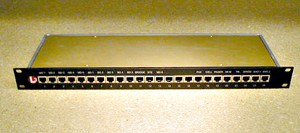 The 1U2445S Shielded patch panel was developed by MPS Inc for L3, Camden NJ. and is an example of our custom engineering solutions. The first article was delivered within six weeks of the initial purchase order.
Shipboard phone systems utilizing RJ45 connectors needed to be connected to higher density lines with DB44 connectors in a space saving device. Cross talk and interference are eliminated with a shielded enclosure and individually shielded CAT5e receptacles. A multiple layer PCB is utilized to carry the front panel RJ45 input signals to the rear DB44 connectors. Signal paths are spread across the five DB44 rear connectors and the PCB was optimized for impedance, time delay, low noise and cross talk as well as current carrying requirements to suite the shipboard phone signals.
The enclosure is a 6061 Aluminum Alloy Extrusion developed by MPS inc. to withstand Military testing and shipboard requirements. All components are coated to prevent corrosion but retains conductivity. PCB ground traces are terminated to an internal, braided ground strap terminating into an external 1/4-20 Stainless ground stud.
Mechanical Specifications
19"wide Front panel by 1U (1.714"tall) 6-1/4" Deep front panel to Gnd Stud tip 5 pounds Front port RJ45 CAT5e Shielded Ports Rear ports DB44 Inter connectivity per customers requirement
Microwave Photonic Systems, Inc. is a high-tech full service design and integration engineering firm that specializes in the design, development and manufacture of Radio Frequency / Microwave and Fiber Optic components and systems. MPS provides products and services to a wide array of military and industrial customers. Our customer base spans the Broadband, Telecommunications, SATCOM, Public Safety, and Wireless markets.
The mission of MPS is to continue to design, develop and manufacture leading edge RF Photonic components, modules, and subsystems to the commercial and private industries. MPS strives to expand an ever-growing customer base by capitalizing on strong corporate management policies, utilizing industry experience and enhancing corporate contacts and networks. MPS is committed to continued investment in Research and Development to ensure that MPS can harnesses current technology advancements to expand our product offerings and effectively support the growing demands of our customer base.
---