Fiber Optic Antenna Link (FOAL)
Product Announcement from Microwave Photonic Systems, Inc.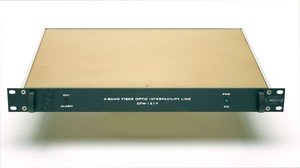 The OFW-1217L Inter Facility Link (IFL) is an analog fiber optic modem designed to simultaneously transport up to four separate X-Band SATCOM uplink and downlink signals between an earth station facility and a remotely located antenna site via a multi strand optical cable. The IFL is packaged in two, 19" rack mountable equipment chassis' that serve as the interface units between the uplink and downlink segments of the X-Band SATCOM system. The IFL uplink channel accepts X-Band input signals (7.9 to 8.4 GHz) from the earth station facility equipment while the downlink channel accepts X-Band input signals (7.25 to 7.75 GHz) from the antenna site equipment. The IFL data link operates over a primary and an auxiliary data channel at a data rate of 38.4 Kbps. The IFL rack unit provides an RS-485 data expansion port for additional IFL rack units to be cascaded to the primary unit without degradation to any of the IFL System functions. The IFL optical transmitter and receiver plug-in modules are capable of supporting future applications of WDM technology and are configurable to support Ku-Band satellite operations by exchanging the X-Band optical receiver plug-in module, Model # 10350A, with the Ku-Band optical receiver plug-in module, Model # 10350B. The IFL can also support mixed mode satellite operations; that is, simultaneous X-Band and Ku-Band operations. The IFL is delivered with a Windows based RS-485, Monitor and Control System (MCS), capable of digital or analog signal monitoring, performing manual or automatic control sequences, and initiating alarms. The IFL System has capability of automatic, emergency, and manual switch over, as well as the ability to exercise all IFL System sub-component modules. These prognostic features allow the system operator to maintain auxiliary sub-component module operational readiness by identifying faults in modules before they are requested as an essential back up thereby increasing system availability.
Applications/Features
Xband Uplink and Downlink
Low Noise
High Link Dynamic Range
Imbedded Software Control
1U rack Mountable Formfactor
Custom Configurations are Available
Microwave Photonic Systems, Inc. is a high-tech full service design and integration engineering firm that specializes in the design, development and manufacture of Radio Frequency / Microwave and Fiber Optic components and systems. MPS provides products and services to a wide array of military and industrial customers. Our customer base spans the Broadband, Telecommunications, SATCOM, Public Safety, and Wireless markets.
The mission of MPS is to continue to design, develop and manufacture leading edge RF Photonic components, modules, and subsystems to the commercial and private industries. MPS strives to expand an ever-growing customer base by capitalizing on strong corporate management policies, utilizing industry experience and enhancing corporate contacts and networks. MPS is committed to continued investment in Research and Development to ensure that MPS can harnesses current technology advancements to expand our product offerings and effectively support the growing demands of our customer base.
---