LTE / 4G Node Alignment via Fiber Optic GPS
Product Announcement from Microwave Photonic Systems, Inc.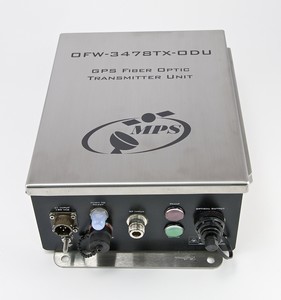 MPS has introduced another offering to the OFW-3478 product line, specifically focused to the wireless industry in support of 4G and LTE build outs.
The OFW-3478 is a turnkey solution offering an 8 port and a 16 port version capable of remoting GPS timing signals into the network operations center within a buildings infrastructure. Buildings such as hotels, shopping malls, hospitals, parking garages, and tunnels are often plagued with poor cell phone reception, and require in building distributed antenna systems (DAS).
The OFW-3478 was designed to provide a means to remote the GPS timing signal to the LTE/4G nodes such that the proper timing synchronization can occur and effectively manage the distribution of the carriers network traffic within the local DAS.
Fiber Optic Antenna Links for remoting GPS signals to in-building LTE/4G nodes provides a robust and secure way to solve in-building distributed antenna system (DAS) issues associated with the absence of GPS signals.
For more information, please contact MPS at 610-344-7676 and ask to speak with a product engineer.
Microwave Photonic Systems, Inc. is a high-tech full service design and integration engineering firm that specializes in the design, development and manufacture of Radio Frequency / Microwave and Fiber Optic components and systems. MPS provides products and services to a wide array of military and industrial customers. Our customer base spans the Broadband, Telecommunications, SATCOM, Public Safety, and Wireless markets.
The mission of MPS is to continue to design, develop and manufacture leading edge RF Photonic components, modules, and subsystems to the commercial and private industries. MPS strives to expand an ever-growing customer base by capitalizing on strong corporate management policies, utilizing industry experience and enhancing corporate contacts and networks. MPS is committed to continued investment in Research and Development to ensure that MPS can harnesses current technology advancements to expand our product offerings and effectively support the growing demands of our customer base.
---