Optical Cable Distribution and Payout Reel
Product Announcement from Microwave Photonic Systems, Inc.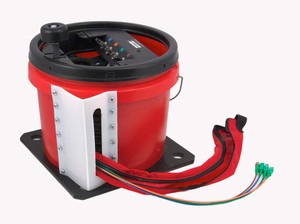 The MPS-1900 Optical Cable Payout Reel is a rugged, reel-style, portable optical cable payout system that can be used whenever temporary optical connections are needed. This Optical Cable Payout Reel was originally designed for Military use when a temporary base camp is set up, so durability and ease of use were the main concerns. It is compatible with all standard connector types, including standard commercial connectors and circular Military multi-conductor connectors. The cable payout reel is designed around a heavy-duty, polystyrene carrying spool that can quickly deploy multi-conductor high strength optical cable. Ballistic nylon sleeves protect the optical connectors while paying-out or retracting the cable, so you don't have to worry about damaging the connectors. There are two different ways to interface with the reel; A connector panel can be installed which connects to your device via standard jumper cables or a pigtail lead which is concealed under a Velcro attached panel. This reel can be ordered with your choice of cable and connectors for a true plug-n-play product.
Applications:
Network Restoration & Troubleshooting CATV Remote Site Connections OTDR Dead Zone Eliminator Military Tactical Links
About Microwave Photonic Systems, Inc
MPS is a leading edge engineering firm that specializes in the design, development and manufacture of RF/Fiber optic components, modules, and subsystems. MPS fulfills multiple roles providing these hardware items including OEM supplier, design consultant, and contract manufacturer. MPS has been providing proprietary technology solutions to military agencies, defense contractors, research facilities, and commercial customers since 1997.
MPS is a privately held company whose strengths include Project Management, Operations Research, Design and Life Cycle Engineering, Quality Control, and Supply Chain Management. MPS maintains a professional and multi-disciplined engineering staff with the requisite skills to provide turnkey engineering solutions to the most demanding problems. MPS's wealth of experience facilitates our commitment to providing a finished product that meets our customer's expectations for cost, delivery, and performance.
MPS has provided RF/Fiber optic subsystems, modules, components, and embedded software that have supported various Air Force, Army, and Navy mission critical programs. Our products are currently in service with many DoD programs including the Towed Sonar Array, UHF SATCOM Ground Station, Shipboard GPS Antenna Link and the Shipboard Fiber Optic Data and Multiplexing System (FODMS).
---