Optical Drop Cable / Optical Node Stub
Product Announcement from Microwave Photonic Systems, Inc.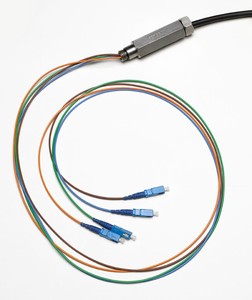 The MPS-1400 Optical Drop Cable / Optical Node Stub is a connectorized assembly that is used to connect a fiber feeder splice point to an optical receiver node or Optical Network Unit (ONU). This eliminates the need to field terminate optical connectors or splice pigtails at the node enclosure.
The optical drop cable comes fully assembled and consists of a CNC machined 5/8"-24 stainless steel feed-thru adapter with integrated strain relief, multi-fiber optical cable, fiber fan-out kit and optical connectors. This service entrance cable is available with a variety of connector styles, fiber counts, armored or non-armored cable and node types. Since these cables are specific to their installation application, we build them to your custom specifications at stock prices. As with every MPS assembly, each connector is tested, the cable is serialized and ships with a test record sheet specific to that cable.
Features
Insertion & Return Loss Tested
Serialized & Individual Test Records
Cable Pull-Out Force > 450 lbs
Meets Telcordia & IEC Endface Geometry Requirements
Custom Configurations Available at No Extra Charge
One-year Warranty
Microwave Photonic Systems, Inc. is a high-tech full service design and integration engineering firm that specializes in the design, development and manufacture of Radio Frequency / Microwave and Fiber Optic components and systems. MPS provides products and services to a wide array of military and industrial customers. Our customer base spans the Broadband, Telecommunications, SATCOM, Public Safety, and Wireless markets.
The mission of MPS is to continue to design, develop and manufacture leading edge RF Photonic components, modules, and subsystems to the commercial and private industries. MPS strives to expand an ever-growing customer base by capitalizing on strong corporate management policies, utilizing industry experience and enhancing corporate contacts and networks. MPS is committed to continued investment in Research and Development to ensure that MPS can harnesses current technology advancements to expand our product offerings and effectively support the growing demands of our customer base.
---