Wavelength Division Multiplexers
Product Announcement from Microwave Photonic Systems, Inc.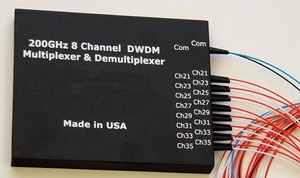 The CWDM utilizes a micro-optic filter based technology to provide high performance, excellent environmental and mechanical stability in a compact package. Available in a ruggedized composite package with fiber pigtail configurations including 250 µm, 900µm jacketed leads supplied with or without connectors.
Applications
CATV Fiber Links / Long Haul/Suscriber Loops / FTTX/ EDFA / RF/Fiber Optic Links
Features
Micro-Optics Based Design / Epoxy Free Optical Path /Low Insertion Loss / High Isolation / Environmentally Stable / Injection Molded Case
About Microwave Photonics Systems
MPS is A leading edge engineering firm that specializes in the design, development and manufacture of RF/Fiber optic components, modules, and subsystems. MPS fulfills multiple roles providing these hardware items including OEM supplier, design consultant, and contract manufacturer. MPS has been providing proprietary technology solutions to military agencies, defense contractors, research facilities, and commercial customers since 1997.
MPS is a privately held company whose strengths include Project Management, Operations Research, Design and Life Cycle Engineering, Quality Control, and Supply Chain Management. MPS maintains a professional and multi-disciplined engineering staff with the requisite skills to provide turnkey engineering solutions to the most demanding problems. MPS's wealth of experience facilitates our commitment to providing a finished product that meets our customer's expectations for cost, delivery, and performance.
MPS has provided RF/Fiber optic subsystems, modules, components, and embedded software that have supported various Air Force, Army, and Navy mission critical programs. Our products are currently in service with many DoD programs including the Towed Sonar Array, UHF SATCOM Ground Station, Shipboard GPS Antenna Link and the Shipboard Fiber Optic Data and Multiplexing System (FODMS).
---