RF/Fiber Optic Transmitter
Product Announcement from Microwave Photonic Systems, Inc.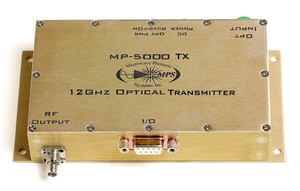 The MP-5000TX is a RF/fiber optic Transmitter designed for antenna remoting and broadband RF transmission applications using singlemode fiber optic cable. The transmitter uses a high efficiency Distributed Feedback(DFB) laser diode with an operating wavelength selected from the ITU CWDM or DWDM grid. The transmitter provides low noise and high dynamic range performance over a wide operating temperature range. Temperature stability is controlled with an integrated thermo-electric cooler (TEC). The transmitter provides status monitoring through the use of an onboard processor that communicates with a host computer over an RS-232 I/O interface. The I/O parameters include laser bias current, temperature and alarm status. When the MP-5000TX RF/Fiber Optic Transmitter is linked with the MP-5000RX 12 GHz RF/Fiber Optic Receiver, the combination provides an excellent choice for your ultra-wideband RF to Fiber Optic conversion applications. The MP-5000TX can also be paired with the MP-2320RX to provide a high performance 3 GHz link with 0.0 dB link gain.
Applications
Ultra-Wideband RF Transmission Antenna Remoting SATCOM RADAR, EW & ECM Frequency & Timing Distribution Telemetry Ultra-Wideband, 1.0 MHz to 12 GHz High Dynamic Range Status Monitoring: RS-232 (opt) 1 Year Full, 2 Year Limited Warranty
Specifications (Refer to the pdf downloadable spec sheet for full specs)
Optical Operating Wavelength ITU CWDM or DWDM Grid Optical Output Level (min) +3.0 dBm E/O Diff. Eff. (min) 0.1 W/A Line Width (3 dB) 10 MHz Side Mode Supression (typ) 45.0 dB RF Channel Modulation Bandwidth Model A: 1 MHz to 12 GHz
Model B: 100 MHz to 3 GHz Flatness (max) ±2.0 dB VSWR (max) 2.0:1 1 dB Comp. Level (min) 18.0 dBm(1) Input IP-3 (min) 30.0 dBm(1) Input Damage Level 20.0 dBm(1) RF Link Gain (min) Model A: -30.0 dB @ 1.0 dB Optical Loss(1) @ 12 GHz Model B: 0.0 dB @ 1.0 dB Optical Loss(2) @ 3 GHz Noise Figure (max) Model A: 45.0 dB @ 1.0 dB Optical Loss(1) @ 12 GHz Model B: 30.0 dB @ 1.0 dB Optical Loss(2) @ 3 GHz Note (1): Overall link performance as measured from RF Input/Output when linked with the MP-5000RX Note (2): Overall link performance as measured from RF Input/Output when linked with the MP-2320RX
About Microwave Photonics Systems
A leading edge engineering firm that specializes in the design, development and manufacture of RF/Fiber optic components, modules, and subsystems. MPS fulfills multiple roles providing these hardware items including OEM supplier, design consultant, and contract manufacturer. MPS has been providing proprietary technology solutions to military agencies, defense contractors, research facilities, and commercial customers since 1997.
MPS is a privately held company whose strengths include Project Management, Operations Research, Design and Life Cycle Engineering, Quality Control, and Supply Chain Management. MPS maintains a professional and multi-disciplined engineering staff with the requisite skills to provide turnkey engineering solutions to the most demanding problems. MPS's wealth of experience facilitates our commitment to providing a finished product that meets our customer's expectations for cost, delivery, and performance.
MPS has provided RF/Fiber optic subsystems, modules, components, and embedded software that have supported various Air Force, Army, and Navy mission critical programs. Our products are currently in service with many DoD programs including the Towed Sonar Array, UHF SATCOM Ground Station, Shipboard GPS Antenna Link and the Shipboard Fiber Optic Data and Multiplexing System (FODMS).
---