High Temperature Materials for Welding Protection
Featured Product from Mid-Mountain Materials, Inc.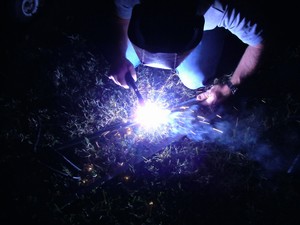 Mid-Mountain Materials, Inc. is a manufacturer of high-temperature resistant materials for various applications. One of these application areas is welding, and we provide a selection of materials that can be used for the purpose of welding protection
ARMATEX®
Our ARMATEX® range of coated fabrics and textiles have a wide range of uses including welding protection. This range includes a variety of different fabrics that all provide various benefits, including silicone and vermiculite, which are popular for use in welding protection.
The fabrics, coated with silicone or vermiculite are specifically engineered for use in environments that require heat and flame resistance, making them perfect for use as welding curtains used to contain the weld environment and protect any passersby from weld splatter. These fabrics have excellent resistance against sparks, molten splash, and flame impingement, making them an obvious choice for use in welding protection. These properties are beneficial for welding blankets, that require a high level of heat resistance to protect the welder and any machinery around the weld.
As a welding protection solution, ARMATEX® Coated Fabrics are available in weights from 7oz to 100oz, and the base materials include both fiberglass and silica.
SILTEX®
The SILTEX® range of materials is high-temperature resistant woven silica and textiles that have a continuous operating temperature of 1800oF. These fabrics are comprised of high purity, high strength 96% amorphous silica fibers, which allow them to provide outstanding performance in applications where E-glass fabrics would often fail.
These properties make SILTEX® products exceptionally useful for welding curtains. They are available in either 18oz or 36oz and can be coated with silicone or other specialty compounds.
Welding Protection Solutions
Choosing the right material for your welding protection application is crucial to ensure the safety of welders and people nearby. Mid-Mountain manufactures a range of products that can provide excellent welding protection.
Mid-Mountain Materials, Inc. is an ISO 9001:2008 certified manufacturer of engineered thermal insulation barriers and seals that provide environmental protection, emissions control, and energy conservation.
Our expertise in diverse material technologies and specialized engineering capabilities enables us to engineer and manufacture innovative thermal insulation solutions for a wide range of applications across many industries.
Vertical integration and a strong commitment to research and development provides our customers with cost-effective solutions for applications ranging from seals for gas fireplaces, to airbag fabric for spacecrafts.
We utilize a broad range of materials to ensure our customers get a product specifically suited to their application. Our materials can withstand temperatures ranging from 400ºF • 204ºC to over 5000ºF • 2760ºC (no oxygen present), and include:
Silica fabrics and textiles
Coated fabrics
Fabricated thermal protection seals, blankets and curtains
Thermal insulation blankets and papers
High performance industrial textiles
Refractory cements, coatings and moldables
Since 1976, Mid-Mountain has been servicing the global market in industries such as Aluminum, Aerospace, Automotive, Appliance, Hearth Products, Primary Metals, Petrochemical, Foundries, Power Generation, and many more.
We at Mid-Mountain welcome the opportunity to work with your company, to find better ways to protect your people, your equipment, and our environment. In partnership we can engineer unique, cost effective solutions to your thermal application requirements.