APPLICATIONS OF HIGH HEAT ROPE
Featured Product from Mid-Mountain Materials, Inc.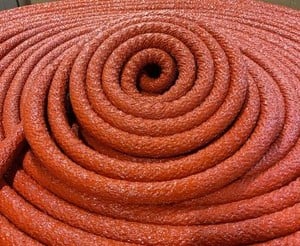 APPLICATIONS OF HIGH HEAT ROPE
High heat ropes are used as a seal in a wide range of high-temperature applications because of their outstanding thermal and mechanical properties. They can be manufactured from a range of substrates, and each material provides different benefits. Here we will outline what high heat ropes are, what applications they are used in, and their benefits.
High Heat Ropes
Many high-heat rope products can be produced from a number of substrates such as fiberglass, ceramic, aramid fibers or carbon and be configured differently depending on the applications. High heat ropes can be formed as knitted or braided rope, over-braided rope, matrix braided rope, and silicone coated rope for more extreme conditions. Substrates can also be formed into braided sleeving and knitted or woven tape.
(Square/Round) Braided rope: Braided ropes have high-temperature resistance, are firmer than knitted ropes, have very high strength and have a longer product life.
Knitted rope: Knitted ropes are heat resistant from 400°F • 204°C to 5000°F • 2760°C and are highly flexible compared to braided ropes. They are often used in applications where a less dense seal is needed.
If the temperature resistance is most important, you might see high heat ropes listed as fiberglass rope or ceramic rope instead of aramid or aramid-glass ropes. Additionally, ceramic-based ropes have a much higher temperature resistance than fiberglass.
Applications
High-temperature ropes can be manufactured to suit several different uses, and in this section, we will go through some of the applications they are used in.
Insulation purposes: To be used to help insulate places such as pipework, industrial oven doors, or industrial furnaces.
Oven, stove and heater door seals: High heat ropes are ideal for windows and doors in industrial applications such as ovens, boilers and more.
High-temperature gaskets: High heat ropes are often used as gaskets in gas fireplaces, boilers, stoves and other similar applications.
Emissions control: Utilized as seals for furnace doors and gas fireplaces and in emissions control systems to reduce harmful substances emitted into the environment.
Benefits
There are many benefits to using heat-resistant ropes as thermal barriers or seals in extreme environments. Not only can they withstand extremely high temperatures, but depending on the materials used to produce them, they can be firm or flexible and have a long life. Other advantages of high heat ropes include:
High Strength
Chemical Resistant
Abrasion Resistant
Excellent Thermal Properties
Low Smoke Emissions
Mid-Mountain Materials, Inc. are specialists in manufacturing high-temperature products and would be happy to answer any questions you may have about high-heat ropes and their applications.
Follow us on:
Watch>>>>Company Overview Mid Mountain Materials
Mid-Mountain Materials
Mid-Mountain Materials, Inc is an insulation manufacturer providing heat resistant fabrics and thermal insulation that provide environmental protection, emissions control, and energy conservation.
We use a wide range of different materials for our heat-resistant fabrics to ensure we can provide a cost-effective solution for many different applications, including aerospace, robotics, and welding.
Our products can provide thermal insulation at temperatures of up to 5000oF, and can also provide protection against chemicals, molten splash, and abrasion.