AUTOMATION IN COATED FABRICS
Featured Product from Mid-Mountain Materials, Inc.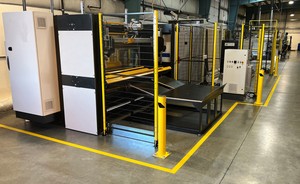 MID-MOUNTAIN'S MANUFACTURING JOURNEY OF COATED FABRICS
Textile manufacturing has a storied history. It was at the heart of the first industrial revolution, with mechanized cotton spinning representing one of the earliest automation technologies. Repetitive tasks that once required human labor–such as reeling and bundling–could now be subsidized with machinery, increasing worker outputs by a factor of almost 500. Innovation didn't stop there. Fabric manufacturers have continually adopted new technologies throughout the years, showing extraordinary versatility throughout the 20th Century and into the new era of Industry 4.0.
AUTOMATION IN COATED FABRICS
The automation of manufacturing processes is central to Industry 4.0. So-named because it's considered the fourth wave of industrialization, Industry 4.0 is a wide-reaching paradigm focused primarily on industrial automation by adopting new, digitized technologies. While current trends in the textile industry focus on yielding sustainable fabrics from new materials, the underlying control systems and automation tools used to manufacture those products are equally as important.
High-temperature coated fabric production will always require human intervention, especially for vertically-integrated manufacturers. Automated systems cannot fully develop products and services suitable for the most challenging industries. But they are essential for meeting new demands and ensuring market resilience in a time of wholesale automated processes.
At Mid-Mountain, automation accommodates growth. We regularly aim to invest in state-of-the-art systems that allow us to maintain our excellent standards while addressing inefficiencies and accelerating our throughput.
Our latest innovation is a brand-new high-speed rerolling, slitting, and packaging machine. It doesn't alter the product in any way, so whether you are used to purchasing high-performance, silicone-coated fiberglass or aromatic polyamide, you can expect the same high-quality ARMATEX® coated fabrics you've come to expect. The difference is in the packaging. Our new equipment is specially designed to suit coated fabrics; wrapping rolls tighter than normal with less telescoping, making the package easier to handle and store. The packaging aspect shrink-wraps your product so it is protected during transit. By making the packaged product more compact, we have also happily reduced the amount of plastic waste required for safe and efficient packaging.
We have been dedicated to delivering high-temperature coated fabrics to a multitude of industries since 1976. Our mission has been to lead the industry through vertical integration, providing high-quality products and fast-to-market solutions using the latest technology. The acquisition of this new packaging tool directly reflects our ongoing mission statement.
Follow us on:
Watch>>>>Company Overview Mid Mountain Materials
Mid-Mountain Materials
Mid-Mountain Materials, Inc is an insulation manufacturer providing heat resistant fabrics and thermal insulation that provide environmental protection, emissions control, and energy conservation.
We use a wide range of different materials for our heat-resistant fabrics to ensure we can provide a cost-effective solution for many different applications, including aerospace, robotics, and welding.
Our products can provide thermal insulation at temperatures of up to 5000oF, and can also provide protection against chemicals, molten splash, and abrasion.