Covers and Seals to Prevent Dust Contamination
Service Detail from Mid-Mountain Materials, Inc.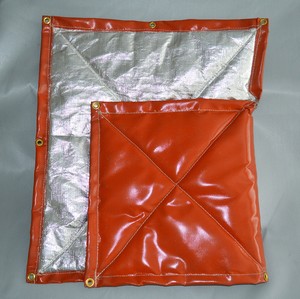 THERMOPAK® Fabricated Parts
THERMOPAK® Fabricated Parts are manufactured for use as thermal insulation barriers in applications that encounter high temperatures, emissions, chemical attack, and abrasion. The range of THERMOPAK® fabricated parts includes high temperature seals, and thermal insulation curtains and blankets.
We can manufacture these products to specific application requirements, ensuring the customer receives a fabricated part that is up to standard.
For 43 years, Mid-Mountain has been manufacturing fabricated parts for a variety of industries, including automotive, aluminum, aerospace, transportation, petrochemical, welding, power generation, and many others.
Our vertical integration gives our customers the advantage of competitive pricing with shorter lead times and a higher level of quality control. A broad materials base, featuring continuous operating temperatures from 400°F • 204°C to 5000° F • 2760°C (no oxygen present), gives us the capability to manufacture high temperature seals, thermal insulation curtains, and blankets for any environment where high-temperature resistance, chemical resistance, and abrasion resistance are required.
Fabricated Parts Applications
Robotic Protective Covers
Ducting insulation in high temperature environments
Heat Shielding
Air Infiltration Sealing
Blankets and seals for emissions control
Blankets and insulation for field stress relieving
Lining material and seals for inert gas furnaces
Insulation for hot gas ducting
Covers and seals to prevent dust contamination
Protection from molten splash, sparks and weld splatter
Looking for something specific?
We have application specific products to suit your needs - compare details side-by-side, search, and sort all of them to find what you're looking for.
About Us
Mid-Mountain Materials, Inc is an insulation manufacturer providing heat resistant fabrics and thermal insulation that provide environmental protection, emissions control, and energy conservation.
We use a wide range of different materials for our heat-resistant fabrics to ensure we can provide a cost-effective solution for many different applications, including aerospace, robotics, and welding.
Our products can provide thermal insulation at temperatures of up to 5000°F, and can also provide protection against chemicals, molten splash, and abrasion. Learn more about us...