EMISSION CONTROL IN BAGHOUSES
Featured Product from Mid-Mountain Materials, Inc.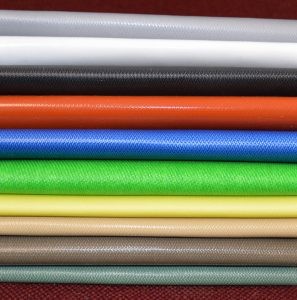 USING INDUSTRIAL FABRICS FOR EMISSION CONTROL IN BAGHOUSES
Baghouse dust collectors are used as air-material separators, removing particulates from manufacturing and other industrial operations. They work to keep dust and solid particulates from being emitted into the atmosphere. This blog post will explore the industrial fabrics used in baghouses for emission control.
How do Baghouses Work?
In terms of dust collection systems, baghouses using industrial fabrics are the most widely used because they are both cost-effective and highly efficient. Baghouses use industrial fabric filter bags arranged in rows and mounted vertically in a metal sheet housing.
The industrial fabrics in baghouses receive dusty gas, capture the particulates, and then emit clean air. The dusty gas stream is drawn into the baghouse using a duct system, it then passes through the industrial fabric filters leaving the particles on the surface. This then separates the particulates from the air. As the dust builds up on the industrial fabric filters, a range of cleaning systems are employed to remove it.
Industrial fabric dust collectors can remove almost all the particles as small as 1 μm present in the dusty gas, with a significant percentage of particles as small as 0.01 μm being removed. Standard fabric dust collectors are highly resistant to airflow, leading to a significant level of energy being used in the fan system. Additionally, dusty gas needs to be cooled before it passes through the unit. However, industrial fabric dust collectors made of ceramic or mineral materials can work in higher temperatures.
A single baghouse installation can house numerous compartments of industrial fabric filter bags, allowing individual compartments to be cleaned whilst the other compartments remain in service. The industrial fabric bags are cleaned by mechanically shaking them or temporarily reversing the flow of air which causes them to collapse.
The industrial fabric filter bags can also be cleaned by pushing a short burst of air through the bag which causes it to expand and the excess dust to drop out. Once the dust is removed from the industrial fabric filters, it is collected for disposal or further use.
The Best Industrial Fabrics for Use in Baghouses
Ceramic fiber textiles are industrial fabrics that are produced from ceramic fiber yarn with no supportive carriers. These industrial fabrics can withstand continuous temperatures of up to 2300°F whilst maintaining flexibility and strength. Additionally, ceramic fiber textiles have low thermal conductivity properties and are highly efficient as high-temperature thermal and electrical insulation.
Fiberglass textiles are also excellent for use in baghouses where the operating temperature does not exceed 1000°F.
To learn more about the types of industrial fabrics that can be used in baghouses, contact the team at Mid-Mountain today.
Follow us on:
Watch>>>>Company Overview Mid Mountain Materials
Mid-Mountain Materials
Mid-Mountain Materials, Inc is an insulation manufacturer providing heat resistant fabrics and thermal insulation that provide environmental protection, emissions control, and energy conservation.
We use a wide range of different materials for our heat-resistant fabrics to ensure we can provide a cost-effective solution for many different applications, including aerospace, robotics, and welding.
Our products can provide thermal insulation at temperatures of up to 5000oF, and can also provide protection against chemicals, molten splash, and abrasion.