Key Benefits of 2025 Fiberglass Thermal Insulation
Featured Product from Mid-Mountain Materials, Inc.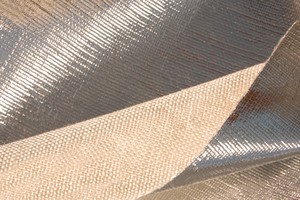 Outlining 2025 Fiberglass Thermal Insulation
Formable and removable, 2025 fiberglass thermal insulation is an outstanding general-use material for high-temperature applications. Also known as lagging fabric, 2025 fiberglass is composed of woven electrical-grade (E-glass) fibers which are treated to improve the material's abrasion- and permeation-resistance. The result is a thermodynamically-efficient thermal insulation fabric with outstanding resistance to fraying and extremely low smoke emissivity.
Mid-Mountain Materials, Inc. supplies a choice of 2025 fiberglass thermal insulation products under the HYTEX® product line. These include premium, aluminized, and weavelock (WL) grades. This blog post will outline the key benefits and applications of these goods in greater depth.
Key Benefits & Properties of 2025 Fiberglass Thermal Insulation
Initially designed as an ethical replacement to asbestos thermal insulation, 2025 fiberglass is extremely malleable and dimensionally stable. As a result, HYTEX® 1000 2025 products can be fabricated into removable/reusable blankets, jackets and covers for mechanical components to prevent damage and improve workplace safety. HYTEX® 1000 2025 fiberglass thermal insulation offers:
Continuous use temperatures of 1000°F (538°C)
Intermittent use temperatures of 1200°F (648°C)
Good strength-to-weight ratios, with a nominal weight of 18 – 21 (oz/sy)
Inherently resistant to a range of chemicals and airborne particulates
Good resistance to direct, intermittent flame impingement
2025 Fiberglass Thermal Insulation: HYTEX® Range:

HYTEX® 1000 2025 Premium fiberglass thermal insulation products are composed of a heavyweight plain weave E-glass with a nominal thickness of 0.027 – 0.030". These boast outstanding thermal insulation characteristics and are heat-processed to exhibit enhanced dimensional stability and abrasion resistance, which combines to reduce the risk that blankets will fray during use, adjustment or removal. In the heat-treated condition, HYTEX® 1000 2025 HT is suitable for applications as varied as insulation padding, pipe wrapping, flange covers, and turbine blankets.

HYTEX® 1000 2025 AL adds a lamination of aluminum foil to one side of this underlying fabric. This laminate boasts its own elevated temperature-resistant qualities, but its primary purpose is to create an effective barrier against vapor and smoke. As a result, HYTEX® 1000 2025 AL is excellent for use in ash pipe wrapping, engine exhaust covers, and thermal insulation where air quality is of paramount importance.

HYTEX® 2025 Premium WL improves both the anti-abrasive qualities and air quality characteristics of the E-glass blanket with an acrylic weavelock coating. This significantly reduces the risk that the fabric will fray during manufacture which subsequently maintains safe working conditions by reducing the number of airborne fibers generated during production. It is generally suitable for applications covered by both the previous grades.
Mid-Mountain Materials
Mid-Mountain Materials, Inc is an insulation manufacturer providing heat resistant fabrics and thermal insulation that provide environmental protection, emissions control, and energy conservation.
We use a wide range of different materials for our heat-resistant fabrics to ensure we can provide a cost-effective solution for many different applications, including aerospace, robotics, and welding.
Our products can provide thermal insulation at temperatures of up to 5000oF, and can also provide protection against chemicals, molten splash, and abrasion.