Materials for Passenger Boarding Bridges
Featured Product from Mid-Mountain Materials, Inc.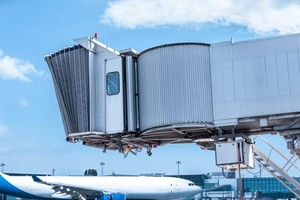 WHAT ARE PASSENGER BOARDING BRIDGES?
Passenger boarding bridges (sometimes known as jet bridges, jetways, sky bridges, and more) are enclosed passageways, elevated off the ground extending from the terminal gate at the airport to the airplane. They allow passengers to disembark and board airplanes without needing to go outside and be exposed to the elements. Passenger boarding bridges come in many configurations and can be fixed in place or movable depending on the installation.
The Importance of Passenger Boarding Bridges
Moving passengers from the aircraft to the terminal efficiently and safely is very important, both for the overall function and efficiency of the airport and also for the safety and comfort of customers.
Configurations of Passenger Boarding Bridges
Traditional passenger boarding bridges can have a fixed platform that is height adjustable and connected to the terminal building via a fully enclosed bridge. The bridge would have a retractable gantry that can be extended to the door of the aircraft to allow passengers access.
In more recent configurations, passenger boarding bridges are mobile units that use an articulating mount to attach them to the terminal at one side. They are supported by powered wheels at one end with a bridge between acting as an extendable tube. This means that PBB can be safely retracted and moved out of the aircraft safety zone during landing and take-off. New-style passenger boarding bridges are completely height adjustable so that they can be used with numerous aircraft types.
Why Use Passenger Boarding Bridges over Mobile Stairs?
There are many advantages of using PBBs over traditional, mobile stairs such as:
Ease of access –

In most situations, the use of a PBB stops the requirement of stairs between the airport and the aircraft. This is especially beneficial for those differently-abled users, young children, and the elderly. It negates the need for specialized wheelchair access.
Safety –

numerous safety risks can present themselves on a busy ramp. Vehicle traffic in the surrounding areas can be dangerous, as well as weather extremes.
Security –

mobile staircases require passengers to leave the airport terminal, meaning passengers have temporary access to a restricted area of the airport. Using passenger boarding bridges stops the potential security issues with passengers able to access the ramp.
Decreased manpower requirement –

mobile staircases require manpower for passenger safety supervision whereas passenger boarding bridges do not need supervision.
What Materials Can be Used for Passenger Boarding Bridges
ARMATEX ® SF 37 JETSTAR is a product from Mid-Mountain Materials, Inc. that has been expertly designed to be used in the flexible closure assemblies of passenger boarding bridges. The material is made up of medium-weight fiberglass fabric and coated with a silicon rubber compound.
Follow us on:
Watch>>>>Company Overview Mid Mountain Materials
Mid-Mountain Materials
Mid-Mountain Materials, Inc is an insulation manufacturer providing heat resistant fabrics and thermal insulation that provide environmental protection, emissions control, and energy conservation.
We use a wide range of different materials for our heat-resistant fabrics to ensure we can provide a cost-effective solution for many different applications, including aerospace, robotics, and welding.
Our products can provide thermal insulation at temperatures of up to 5000oF, and can also provide protection against chemicals, molten splash, and abrasion.