Protecting Robotic Equipment
Featured Product from Mid-Mountain Materials, Inc.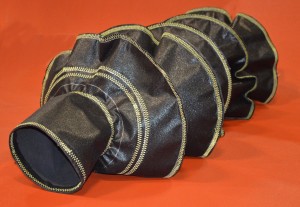 Protecting Robotic Equipment in Extreme Environments
Robotics are widely used in industriaindustrial environments with harsh operating conditions, such as steel mills, aluminum smelters, foundries, refineries, and petrochemical plants. However, without proper protection from the hazards of these conditions, tens of thousands of dollars that have been invested in robotic equipment can be lost in an instant. To remain effective, robotics must weather extreme conditions without corroding or degrading, and be resistant to dust, chemicals, moisture, and temperature extremes. Robot clothing and robot protective covers have been used to prevent component failure, allow robots to operate in a larger range of conditions, and extend the operational life of the robots. However many of the fabrics traditionally used have a high level of flexural failure, and low resistance to heat and abrasion.
Mid-Mountain has developed ARMATEX® SBN 13-602 ROBOTEX, a high performance fabric developed to protect robots from chemicals, sparks, molten splash, and pollutants, thus reducing the downtime required for maintenance and failure, and increasing the life of the robot.
ARMATEX® SBN 13-602 ROBOTEX is a very high strength, aromatic polyamide woven fabric that is coated with a highly specialized and high performance silicone elastomer. ARMATEX® SBN 13-602 ROBOTEX has exceptional strength and incredibly high flexural failure resistance, as well as high chemical and thermal stability. Mid-Mountain uses ARMATEX® SBN 13-602 ROBOTEX to manufacture THERMOPAK® Robot Protective Covers for a wide variety of robots.
FEATURES
Better strength (tensile and tear) after thermal exposure than typical robot protective fabrics
Very flexible – flexibility virtually unaffected by temperature
Excellent high/low temperature performance capability
Excellent resistance to a wide range of fluids and chemicals
High thermal conductivity
Easy to fabricate/process
Excellent ozone and UV resistance
Excellent electrical insulating properties
Excellent weatherability
Maximum value
THERMOPAK® Robot Protective Covers are innovative, durable covers that benefit employees working in a range of dangerous or industrial environments, and in applications where a flexible, high strength and high temperature fabric is required. Additionally, THERMOPAK® Robot Protective Covers manufactured from our ARMATEX® SBN 13-602 coated fabric may be beneficial in nuclear settings, aeronautics, automotive industry, machining, painting, foundry work, surface treatment, and food industries.
Mid-Mountain Materials, Inc. has anticipated the technological improvements that will drive robotics and automated components into a range of industries. Given the up-front cost for robotics is high, it is imperative for corporations to preserve their investment with protective robotics clothing.
Looking for something specific?
We have application specific products to suit your needs - compare details side-by-side, search, and sort all of them to find what you're looking for.
Search our Products
Mid-Mountain Materials
Mid-Mountain Materials, Inc is an insulation manufacturer providing heat resistant fabrics and thermal insulation that provide environmental protection, emissions control, and energy conservation.
We use a wide range of different materials for our heat-resistant fabrics to ensure we can provide a cost-effective solution for many different applications, including aerospace, robotics, and welding.
Our products can provide thermal insulation at temperatures of up to 5000oF, and can also provide protection against chemicals, molten splash, and abrasion.