Seal Efficiently with High Temperature Gaskets
Featured Product from Mid-Mountain Materials, Inc.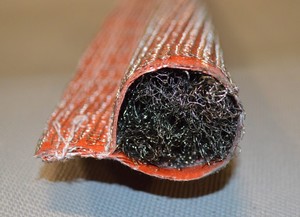 High Temperature Gaskets from Mid-Mountain
A gasket is a mechanical seal that is used to fill any gaps between two or more materials that are bonded together. The typical purpose of a standard gasket is to prevent any gas or liquid from leaking from the materials.
In high-temperature applications, gaskets need to be able to withstand extreme temperatures while still preventing any leakages.
Mid-Mountain Materials, Inc. manufactures a range of high-temperature gaskets for sealing.
THERMOPAK® Die-Cut Gaskets
Our range of die-cut gaskets are engineered with chemical, high-temperature, and abrasion resistant materials, which makes them ideal for use in a range of industries.
This product range is completely bespoke, and we create custom die-cut gaskets exactly to your specifications. They are used to fill any imperfections on mating surfaces that require sealing, to provide an air-tight barrier, ensuring there is no emission, gas, or liquid leakage.
Mid-Mountain is a vertically integrated company, which allows us to provide the best quality high-temperature gaskets that are the most suitable for your application. Depending on your requirements, we can create custom die-cut gaskets using uncoated and coated fabrics, and non-woven fabrics including papers and felts.
THERMOPAK® Tadpole Gasket
A tadpole gasket is a high-temperature insulation tape that has a bulb and tail design. These high-temperature gaskets consist of a cover material with an inner core material in various specifications specific to the application requirement.
The design of a tadpole gasket ensures that sealing performance is of a high standard and they can be designed specifically to resist abrasion, moisture, and chemicals.
Cover materials for our range of tadpole gaskets include silica and fiberglass fabrics coated with refractory coatings or silicone rubber for the increased heat resistance. The core materials include silicone or neoprene for core maximum density or stainless steel or Inconel for less density.
Typical applications of these high-temperature gaskets include ductwork, oven and furnace doors, boilers, and expansion joints.
Mid-Mountain Materials, Inc. specializes in developing fabrics and textiles for use in high-temperature applications, including those specifically for high-temperature gaskets.
Looking for something specific?
We have application specific products to suit your needs - compare details side-by-side, search, and sort all of them to find what you're looking for.
Search our Products
Mid-Mountain Materials
Mid-Mountain Materials, Inc is an insulation manufacturer providing heat resistant fabrics and thermal insulation that provide environmental protection, emissions control, and energy conservation.
We use a wide range of different materials for our heat-resistant fabrics to ensure we can provide a cost-effective solution for many different applications, including aerospace, robotics, and welding.
Our products can provide thermal insulation at temperatures of up to 5000°F • 2760°C, and can also provide protection against chemicals, molten splash, and abrasion.