Silica Fabric and Textiles: SILTEX®
Featured Product from Mid-Mountain Materials, Inc.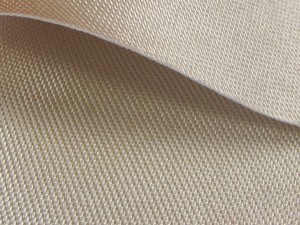 SILTEX® silica fabric and textiles are high-temperature resistant materials with a continuous operating temperature of 1800° F • 982°C. These fabrics from Mid-Mountain can be used in a range of configurations, including silica mat and silica fabrics.
The unique properties of SILTEX® Woven Silica Fabrics make them well-suited for the protection of personnel and equipment against moderate welding splatter, sparks, grinding of metals, etc. in hot works operations.
The enhanced resistance of silica to thermal, chemical and abrasion attack makes them excellent for use in engineered thermal systems such as turbine, exhaust silencer and steam valve covers.
Compried of 96% amorphous silica fibers, SILTEX® Woven Silica Fabrics are unaffected by most chemicals except strong alkalis, hydrofluoric acid or sodium.
SILTEX® 18-UH Woven Silica Fabric is a high performance, mid-weight fabric exellent for use in the fabrication of welding blankets, welding curtains and welding pads. In addition, it is excellent for use in engineered thermal insulation systems designed for severe temperatures such as Turbine, Exhaust Silencer and Steam Valve Covers.
SILTEX® 36-UH is a high performance, heavy weight silica fabric that provides maximum protection of equipment and personnel against severe weld splatter and sparks. It is also excellent for use in engineered thermal systems that require higher strength and improved thermal properties over the lighter weight alternatives.
For applications where abrasion resistance is required, we offer SILTEX® 18-UH-AR and SILTEX® 36-UH-AR.