Tray Pads for Protection and Cost Reduction
Featured Product from Mid-Mountain Materials, Inc.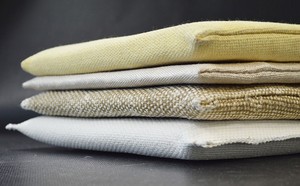 THERMOPAK® Tray Pads
Our THERMOPAK® Tray Pads are high temperature, high durability pads used as aluminum protection for coils, slabs, and plate from damage by direct contact with steel transport trays, V-racks, sling trays and rail cars during annealing, transport, cooling and storage of the aluminum.
Movement of aluminum on these steel surfaces, especially the hot aluminum, results in contact surface abrasions and denting commonly referred to as "bruising", resulting in significantly increased scrap aluminum.
Use of our tray pads eliminates most of these problems and provides aluminum protection to reduce the scrap generated by in-house handling methods.
Mid-Mountain manufactures four standard styles of THERMOPAK® Tray Pads from our both our ARAMTEX® and HYTEX® Product families. The tray pad that is right for your application will depend on the usage and temperature requirements.
The FIRESTAR® 35 style is our most economical tray pad for use to 1000° F • 538° C.
The HYTEX® 1400 style tray pad is rated for 1400°F • 760°C and is frequently used in higher temperature environments such as the annealing furnaces.
The HYTEX® 700 style tray pad is the most durable of all these styles used for aluminum at lower temperatures of 450°F • 232°C or less.
The ARMATEX® QF40 Clear style tray pad is our most durable rated for 1000 F • 538°C.
Aluminum Protection: Sealing Solutions Mid-Mountain
The aluminum industry contributes an estimated $174 billion dollars to the US economy alone, with a global impact that is difficult to quantify. Almost everyone on the planet will use the material in one form or another throughout their lives – often daily. It is ubiquitous in engineering and manufacturing, with a significant economic and environmental footprint.
Regulatory changes, alongside primary production and aluminum recycling optimization, have improved the sustainability issues associated with the aluminum industry to commensurately reduce the material's environmental impact. From a production and recycling perspective, this is facilitated by aluminum protection components designed to reduce scrappage, improve production yields, and extend the service lives of essential components in the production chain.
High-Temperature Seals for Aluminium Protection
Thermal barrier seals are commonly used to protect the various components in a Hall-Héroult reduction cell. A typical cell requires a range of high-temperature seals that are inert in the presence of molten metals and extremely corrosive agents.
Sealing is a pervasive issue in electrolytic aluminum production, as the sidewalls of the reduction cell are pierced by anode and cathode bars. This makes it extremely difficult to create a hermetic seal capable of containing reactive mixtures of alumina (Al2O3) and cryolite. Seal failure can result in gradual oxidation of the cell and electrode linings, which can be extremely costly to repair and will require mechanical downtime.
THERMOPAK® Anode Bar Seals and External Cathode Bar Seals are inherently resistant to the extreme environments of Hall-Héroult reduction cells. This can provide appreciable aluminum protection by enhancing process yield and reducing the amount of mandatory downtime for component maintenance. If you are interested in learning more about these products, read out previous blog post Insulation Materials: What are External Cathode Bar Seal Boots?
Once aluminum ingots are extracted via Hall-Héroult reduction, they may be isolated in a soaking pit prior to hot-rolling in the production mill. In the interim, the billets may be transported using THERMOPAK® Tray Pads designed to reduce metal spalling and mitigate the generation of scrap, or products with poor tolerance surface finishes.
Heating of aluminum ingots in the soaking bath can take hours, demanding constant control of the combustion process to maintain optimal processing conditions. This is controlled using a mixture of active mechanical components and passive sealing materials. THERMOPAK® Flue End Seals, for example, are used to cover the exhaust manifold to prevent drafts and undesirable cold air from flowing back into the system. THERMOPAK® products make suitable flue end seals for anode baking furnaces and soaking baths alike. The THERMOPAK® product line also includes a range of sealing applications for crucible lids in non-ferrous metalworking, offering an airtight seal to contain negative or positive pressure within a working vessel. These are available in a range of geometries, including rectangular, square, and rounded formations with a choice of materials to meet specific customer requirements.
Aluminum Protection with Mid-Mountain
Mid-Mountain Materials, Inc. specializes in the fabrication of high-temperature textiles for demanding industrial applications. We have engineered and supplied a broad range of materials suitable for aluminum protection and process control, from tray pads to die-cut gaskets and sealing materials. Our tray pads offer primary aluminum protection, limiting the likelihood of mechanical damage to primary and secondary aluminum. Our THERMOPAK® seals offer commercial protection and confidence in the continuing high performance of your facility.
If you would like any more information about our solutions for aluminum protection, please feel free to contact us with any questions.
Mid-Mountain Materials
Mid-Mountain Materials, Inc is an insulation manufacturer providing heat resistant fabrics and thermal insulation that provide environmental protection, emissions control, and energy conservation. We use a wide range of different materials for our high-temperature resistant, cheemical resistant and abrasion resistant proucts to ensure we can provide a cost-effective solution for many different applications.