What About Space Textiles? 
Featured Product from Mid-Mountain Materials, Inc.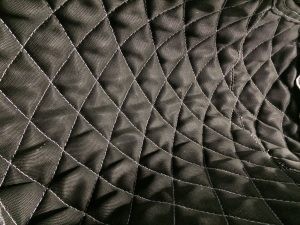 HIGH-PERFORMANCE FABRICS FOR AEROSPACE APPLICATIONS
The aerospace industry is a market that is driven by demand for greater aircraft performance and commercial return. Mid-Mountain's products can help the industry to innovate and enhance overall fabric performance, application, and manufacturing. Broad manufacturing capabilities and vertical integration allow Mid-Mountain to provide high quality, engineered thermal barriers and seals to meet those demands, and enhance both performance and safety on aircraft.
Why High-Performance Fabrics from Mid-Mountain?
Our core technologies and materials science knowledge are frequently used to create new high-performance fabrics for aerospace safety and process-specific applications. This has led to revolutionary breakthroughs in flexible industrial coated fabrics and high-performance fabrics that are used for pallet and cargo covers, thermal barriers and protective seals.
Many of our standard coated fabrics used in aerospace products are manufactured in accordance with ATSM, FAR, BMS, and MIL specifications.
We are Highly Experienced
Mid-Mountain has helped the world's leading aerospace companies achieve competitive advantage and increased safety with the use of our high-performance fabrics. Product development is a high priority for us and we work closely with our customers to address the needs of their application, using raw materials tailored to the best possible outcome.
Our area of focus for aviation applications continues to be on the development of new materials, the improvement of current industrial material properties, and the application of current materials in new and novel structures.
Which High-Performance Fabrics are Suitable for Your Application?
Armatex® Silicone/Intumescent Coated Fabrics – these fabrics are coated with a protective substance activated by a heat-generating chemical reaction. The heat causes the particles to swell and create an insulating layer on a surface. Intumescents expand substantially in high temperatures such as in fires. This means that these fabrics are suitable for fire protection, making them an excellent choice for cargo and pallet covers as well as onboard fire retardant fabrics.
ARMATEX® SF 37 JETSTAR – this product has been specifically designed for use in passenger boarding bridges. The material is well-suited to use in the flexible closure assemblies, being made from medium-weight fiberglass fabric and coated with a silicone rubber compound. ARMATEX SF 37 Jetstar is manufactured to meet or exceed the requirements of NFPA specifications 255 and 701, and is classified as "Class A" per NFPA 101, Life Safety Code.
ARMATEX® NF 14 CARGO TEX – this high-performance fabric is made from high-strength woven fiberglass with a polymer coating. The fiberglass fabric is extremely strong and passes the FAA specification for radiant panel flammability. This means it is well suited to use in cargo holds, enhancing passenger safety and mitigating risks of sudden fires.
What About Space Textiles?
Our wide range of chemical formulation, fabric coating, weaving, and fabrication capabilities allow us to offer solutions to all aerospace and aviation manufacturing needs, as well as those for spacecraft.
The Aerospace/Aviation industry demands materials of the highest quality that perform reliably and predictably under extreme operating conditions for long periods of time. Our ISO 9001:2015 certification ensures our products meet these high-quality standards, and our extensive background of materials science knowledge and engineering techniques allows us to overcome challenges faced by the industry.
Want to Know More?
If you want to take one small step towards learning about our high-performance fabrics and how they are used in aviation and outer space applications, get in touch with the team at Mid-Mountain Materials today.
Follow us on:
Watch>>>>Company Overview Mid Mountain Materials
Mid-Mountain Materials
Mid-Mountain Materials, Inc is an insulation manufacturer providing heat resistant fabrics and thermal insulation that provide environmental protection, emissions control, and energy conservation.
We use a wide range of different materials for our heat-resistant fabrics to ensure we can provide a cost-effective solution for many different applications, including aerospace, robotics, and welding.
Our products can provide thermal insulation at temperatures of up to 5000oF, and can also provide protection against chemicals, molten splash, and abrasion.