CALIBRATION KITS and Accessories
Product Announcement from Mil-Ram Technology, Inc.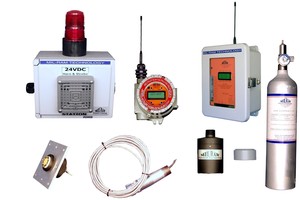 CALIBRATION GAS KITS are available for convenient field calibration of various Gas Detectors. Gas Bottle size and shelf-life varies depending on inherent stability of specific gas. Other Calibration Gas concentrations may be available upon request. Please consult factory for details regarding specific requirements for Calibration Gas Kits.
CALIBRATION KITS include: disposable cylinder certified gas, regulator, calibration cup, hose and carry case. Kits available for Oxygen, Toxic and Combustible gases and vapors. Consult Mil-Ram for specific gas type.
CALIBRATION KITS for numerous Toxic and Combustible gases, Splash Guards, Dust Guards, Duct Mount Adapter Kits, Sensor Extender Cables, Relay Modules, RS-485 Modbus RTU, Power Supplies, Wireless Telemetry, Network Hubs, and Custom Configurations.
---