Modbus RTU Remote Relay Module
Featured Product from Mil-Ram Technology, Inc.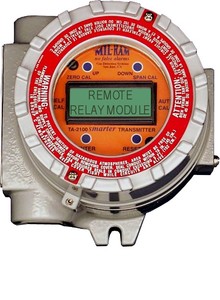 MIL-RAM'S New Remote Modbus RTU Relay Module provides four (4) relays (SPST, 10A @28VDC, resistive, 12A @120VAC, resistive) in an explosion-proof enclosure for field installation at any point on the Modbus RTU network. Full or half-duplex RS-485 connection. Independent control of each relay from Modbus Host (PLC) to acknowledge gas alarms or fault conditions. Easily install one or more relay modules on the network at desired locations to minimize field wiring and associated costs. Complete control of relay function using simple Modbus commands from Host controller. Use with Mil-Ram's Model TA-2100 Modbus RTU smarter Transmitters to build a complete gas detection system with desired alarm functions at convenient locations. Requires 12VDC or 15-30VDC power. Other enclosures (including DIN rail mounted) available. Adds relays to any Modbus RTU network. Not limited to a gas detection network.