TOX-BOX Single Gas Portable Detector
Product Announcement from Mil-Ram Technology, Inc.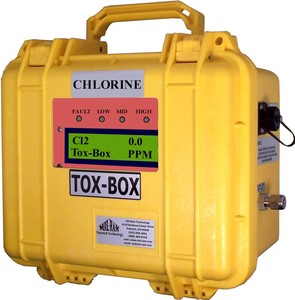 The TOX-BOX Single Gas Portable Detector provides high resolution measurement (16-bit analog-to-digital conversion) of any MIL-RAM Toxic, LEL, Oxygen or VOC sensor with corresponding meter indication (16 character x 2 line LCD display) and local/external alarm function. The TOX-BOX is housed in a rugged, weatherproof plastic instrument case for dependable service under demanding field conditions. The instrument is easily configured through the operator interface consisting of front panel push button switches and a large backlit LCD display (no dip switches). Low, mid, high and fault relays can be used to activate external alarms and/or switch equipment on/off. The alarm relays are easily configured for non-latching/latching, non-energized/energized and 0-255 sec. time delay. The alarm relays can be configured to trigger with increasing or decreasing meter readings. Software filtering can be enabled at various levels to offer increased stability in noisy electrical environments. A regenerated 4-20mA signal and/or Modbus serial interface (optional) provides reliable connection to a data logger. Continuous diagnostics further ensures system integrity and long-term stable operation and performance.
---