Sensor Technologies for Gas Detection
Product Announcement from Mil-Ram Technology, Inc.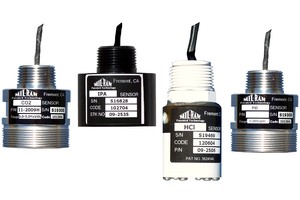 Industrial Gas Sensors: MIL-RAM is a leading innovator in the area of gas sensor development, manufacture and integration. MIL-RAM utilizes several technologies (including electrochemical, infrared (NDIR), catalytic, photo-ionization and solid-state, thermal conductivity) to provide the best monitoring solution. MIL-RAM's unique patented electrochemical sensor technology specifically eliminates zero drift and associated false alarms. The MIL-RAM sensors provide enhanced chemical selectivity to further ensure the elimination of nuisance alarms related to common coexisting gases (CO, CO2, LEL, etc.). A primary objective of sensor design is lower cost of ownership through elimination of false alarms and reduced maintenance. All MIL-RAM sensors are rigorously tested and characterized to ensure conformance to strict operational and performance standards. Many of the MIL-RAM electrochemical sensors are factory rechargeable to restore original sensitivity and performance. The MIL-RAM sensors have been field proven over the years in a wide variety of industrial environments, often under demanding and hostile conditions. As a sensor developer and manufacturer, MIL-RAM has a unique perspective on the application of various sensor technologies to solve the varying needs of industrial gas monitoring. MIL-RAM remains fully committed to ongoing sensor research and development to ensure the future needs of industry are met with efficient and cost effective monitoring solutions.
---